A popular Sierra-Leone pastor, Prophet Joshua Karjoh, who is currently in Nigeria on a spiritual cleansing mission, has claimed that the death of Hip Hop singer, Obiajuru Nwozo, otherwise known as MC Loph on Wednesday, 14 September, 2011 is not natural.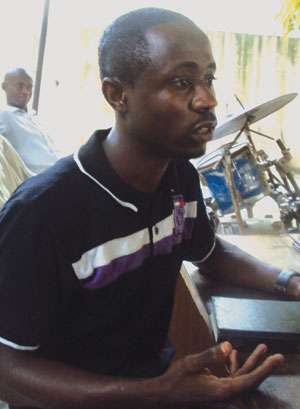 Prophet Karjoh, told P.M Entertainment that the musician was attacked by those who are envious of his success, adding that perhaps, "the evil perpetrators have realised that he was going to be a greater person in few years' time.
He is also of the opinion that many deaths that have plagued the Nigerian entertainment industry in recent time are not natural, adding that there is every reason for Nigerian entertainers to be more careful and move closer to God.
"I didn't know the musician (MC Loph) before his death but when some of his colleagues hinted me about how he died, I asked and it was divinely revealed to me that he was attacked. The enemies hit him with a spiritual rod on the head and waist.
"I have been to many countries doing my deliverance assignment, but I have not seen the kind of things I see in Nigeria before. There are evil doers everywhere, but it is more rampant and severe in Nigeria," Karjoh, who arrived early this week, said.
The death of MC Loph alongside his only sibling in an auto crash along the Benin-Ore Road, has further heightened the death scare that has been rocking the Nigerian entertainment industry for sometime now.
Within the last six months, the industry has lost about 10 practitioners, a development that has been described as spiritual attack from many quarters. Between March and September this year, some of the entertainers that have lost their lives include Kokolet Chidinma, CD John, Yemisi Eleto, Alasari, Ashley Nwosu, Sam Loco Efe, Christy Essien-Igbokwe and the latest being MC Loph.
Concerned about the rate at which strange deaths and illnesses have plagued the industry, the entertainers had earlier run to the General Overseer of the Redeemed Christian Church of God (RCCG), Pastor Enoch Adeboye, who had a special prayer session for them. But this has not kept death at bay in the industry.
Some of the entertainers who spoke with P.M Entertainment expressed fear over the development, most of them suggesting that it is time to move closer to God.
Popular Nollywood actress, Halima Abubakar, said "I believe it's time for us all to be prayerful and be each other's brothers because there is a lot of hatred in some people's heart for no reason. People die everyday but we hear about that of entertainers because they are in the limelight. I really plead for love in our nation."
Tywo Akintoye of Twin-X fame told P.M Entertainment that "it is unfortunate but we have to understand that the nature of what we do naturally brings much more attention to happenings in the entertainment industry than any other sector.
"When you look at the rate at which people have died in this country in the last six months, then we can understand why it has also affected the entertainment industry adversely. With the bombings, floods, road accidents and so on, you will naturally put it down to the leaders who haven't done enough to protect the lives of our citizens."
In her own reaction, female comedian, Helen Paul, popularly known as Tatafo, opined that "it is disheartening to see and hear such things happening, but in all, we cannot question God. However, one sure lesson is that we should live each day as if it is the last."
"It is so sad and all we need is to pray for God to protect us all," those were the words of Peter Okoye of P-Square fame.
Like most of his colleagues, Hip Hop crooner, Danny Young, acknowledged that "we need to be prayerful, conscious and careful. If we can do these three things, it will be in the interest of our industry because the lost souls would have contributed more to the growth of the industry if they were still alive."
No doubt, the untimely death of MC Loph, 38, came as a huge shock to all and sundry, particularly because he died about four days to his traditional marriage.
In a chat with P.M Entertainment, Emmanuel 'Kaha' Nzemeke, who had been a friend of the lat MC Loph since 1995, opined that the death of the Osondi Owendi Remix star had a spiritual undertone.
According to the Heart Robber crooner, "it is very obvious to me that there is more to these deaths than we all think. It is more spiritual than physical because whatever happens physically has already gone through a spiritual stage. We need to be prayerful and seek God's guidance and protection."
— Bayo Adetu