President Goodluck Ebele Jonathan has said his Administration aims at creating more sources of income and strengthening the economic power of Nigerians.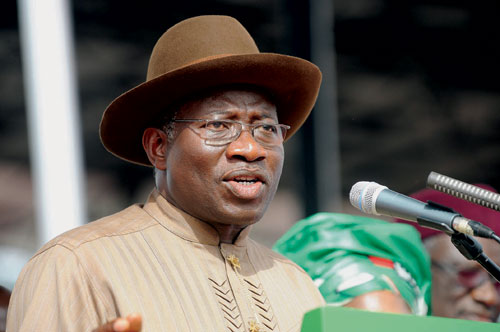 President Jonathan said this while speaking to Mr. Klaus Schwab, Founder/Executive of the World Economic Forum, WEF, during one of his numerous meetings and consultations in New York, USA.
"We are working hard to create more sources of income for Nigerians, to raise the living standards and reduce the migration of Nigerians to other countries, and for this, you need a lot of resources," he stated.
The President said the Nigerian economy was being restructured by reducing the control and participation of government in many sectors, adding that assistance from the WEF would help in this regard.
President Jonathan said the Economic Management Team had been carefully constituted to provide a very wide range of advice from both public and private sector perspectives to further propel the growth of the economy.
He welcomed WEF plan to hold its 2014 Summit on Africa in Nigeria, and Mr. Schwab's proposal to consult with the Minister of Finance and set up an informal working group to attract foreign direct investment to Nigeria.
Earlier, Mr. Klaus Schwab, WEF founder had said Nigeria was an important nation that must be supported to rapidly develop and attain its potentials.
He said WEF was looking forward to President Jonathan's participation at the Forum in Davos, during which major global economic decisions are taken, and proposed the setting up of an informal group to work towards attracting investments into Nigeria.
Still on matters of the economy, President Jonathan said the administration was working hard to encourage private sector investments into Nigeria, adding that there were many opportunities for investors in the country.
He was speaking to Mr. Daniel Roberts, Chairman, Chief Executive Officer of Merchants Bank of California, who is exploring investment opportunities in Nigeria.
President Jonathan said Nigeria's local banks alone cannot support the projected expenditure of $20bn over the next four years, and assured Mr. Roberts that the country's economy was ready to absorb the investments.
Mr. Roberts had told the President that his company had a $1bn line of credit for investments in the oil sector, and was prepared to explore other sectors of the economy.
Also today, President Jonathan held discussions with President Abdullaye Wade of Senegal on the efforts of the Economic Community of West African States to ensure peace and transparency in the forthcoming elections in Liberia, as well as the situation in Cote d'Ivoire.