Comrade Shehu Sani is a Kaduna-based author, civil rights activist and one of those who facilitated former President Olusegun Obasanjo's recent meeting with the dreaded Boko Haram Islamic sect. In this interview with FEMI ADI, he gives a narrative of events before and during the meeting and offers the way forward to achieving lasting peace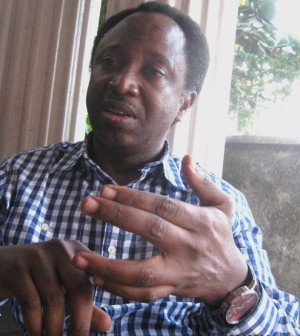 Obasanjo's host, Babakura Fugu was killed by Boko Haram members a few days after the meeting you facilitated. What would you say was responsible for that?
I got a report that the man was killed and that the people who killed the man also issued threats that all those who were involved in the peace process, including myself, were targets. They said they were not going to make peace with an unbeliever or any infidel government and with Obasanjo. They said they will come after all those who initiated the move for the parley, especially me. Obasanjo was also named among those to be killed. I am sad over Fugu's death. As far as the threat is concerned, I am a fighter. I have been in the struggle for years and I don't think the threat should stop me from doing what I believe should be done. After the killing of Fugu, the real Boko Haram came out on the BBC and Voice of America to condemn the killing as well as those who issued the threats.
Could we now conclude that there are elements in the Boko Haram sect that were uncomfortable with the peace initiative and meeting with Obasanjo?
As someone who was part of that meeting, I observed that a faction was not happy. They were not unhappy with the peace process or meeting, but with their exclusion. They could also have differences with the main group and may want to frustrate attempts at peace. The second hypothesis is that there is a political interest and that perhaps, the peace process could expose those things that were not known to the Nigerian people. The killing of Fugu and the text sent to all of us was meant abort the peace process. But I suspect that the team that attacked the Police Headquarters is different for the one that bombed the UN building. Those who attacked the Police Headquarters made a broadcast. Those who attacked the UN building belong to a splinter group. What this process has shown is that it's possible to achieve peace with Boko Haram, but how to make it all-embracing is the challenge.
From what they said at the meeting with Obasanjo, it was obvious that it is with the Borno State government that they have issues. Why, then, did they attack facilities not owned by the state government?
I think they are the best people to answer this question. During the meeting, Obasanjo said killings and bombings will not promote the interest of Boko Haram and that of the country. Obasanjo also said he will not want to see anybody engage in acts detrimental to peace and security of the country. But I have no doubt that if followed, the suggestions they gave could lead to peace in the country.
Are you sure the bombing will stop once these demands are met?
Before we got involved, I used to think that this crisis had no chance of being resolved. People should understand that a stick approach was adopted for the Niger Delta problem, through the killing of Ken Saro-Wiwa and others, but it did not work. And when the carrot approach was used, it brought about a solution. I have no doubt that if there is going to be compliance with their demands, we will find the formula for peace. If you have two groups fighting the government, at least, try to make peace with one and then you know that you have just one to deal with. But if we don't follow this process, the government will continue to spend billions of naira on the army and the police without achieving anything meaningful.
We are told that the sect finds Western education abhorrent…
They are the best people to answer that. But I was shocked at the meeting to see that some of their women are university graduates. And one woman, who stood to speak, holds a master's degree. All their children are also in Western schools. I was a bit confused. But given the atmosphere, I couldn't ask questions. However, I am of the firm belief that they are well educated. Most of them are university graduates. They said they have a name, but they are popularly called Boko Haram.
Some Northern elders said you never approached them before the meeting?
It would be ridiculous to tell a man in his seventies or nineties what to do and what not to do. This problem has been on for the past three years. It behoves on them as elders and leaders in this part of the country not to simply remain indifferent, even if they have problems with President Jonathan. I am not a fan of the president, but I am passionate about peace and security in this country. He is our president and we must accept that fact. I don't think that they need me to initiate negotiation with Boko Haram. The Northern elders met over a hundred times over the issue of zoning. They also met over two hundred times in an attempt to get a Northern consensus candidate. I believe that since they didn't ask for Shehu Sani's advice to hold those meetings, they could have also used the same passion for zoning and consensus candidate towards ending the problem of Boko Haram. For anybody to imagine I should have come to his house to call him is mischievous and an attempt to blame his failure to act on another person. If they were interested in stopping the violence, it wouldn't have grown as big as this. Most of them think that because they don't like the President, they should leave him to suffer. We are bringing new initiatives to bring about the end of Boko Haram's activities.
If offered the chance to spend a night in either Maiduguri or Jos, which would be your preference?
Anyone interested in peace should be able to bear the consequences. As Mandela said, if you want peace, you should talk to your enemies and not your friends. I believe the issue of Maiduguri and Jos could be addressed. If our revered Professor Wole Soyinka was asked to meet with Christian and Muslim leaders in a town hall, it would serve more purpose than a lot of English and grammar on the pages of newspapers. And if others, who also dared, go to Jos and Maiduguri, to meet Muslims and Christians and tell them to understand one another, it will have more impact than posting insults and abuses on Facebook and Twitter pages or commentaries in newspapers. I believe that an effort at peace, even if modest, is one billion times better than one trillion commentaries and analyses that make no impact. In 2009, I went to Jos. I brought Berom Christians and Muslims to a primary school, where I made them resolve their differences.
I told them the need to embrace peace and that there should be no killings any longer and I offered my modest contributions. It's my idea of what peace initiative should be.
Why do you think Jos erupts from time to time?
What has led to the constant killings and crises are these: non-implementation of the probe panel reports that have been submitted to several governments; the disconnect between the leaders and the led; indigene and settler syndrome; manipulation of religion by politicians and the exclusion of common people from the peace process. When you bring in Christian and Muslim leaders to Abuja or to government house in Jos, you can't be sure that these people will take the message back to the grassroots. Let me tell you that if you have a weekly neighbourhood meeting between Christians and Muslims in a suburb of Jos, it will help resolve the problem.
How do we end the crisis?
It will end if Christian and Muslim leaders as well as the government partner to involve neighbours in the peace process. It is not about signing communiqués, but about neighbours getting to agree to live in peace. I recently wrote a book that would be distributed to primary schools. The reason for primary schools is that the children still have open minds and are not yet polluted by prejudice and sentiments. And I believe that if we have lost hope in the older generation stereotype and belligerent faith and thinking, we can at least plant the seeds of hope in the hearts of these young people.
visit www.thenewsafrica.com for more stories