Lagos State Governor, Mr Babatunde Fashola (SAN) on Saturday restated that it will require the common efforts of every citizen deployed in a peaceful atmosphere to build the collectively desired country.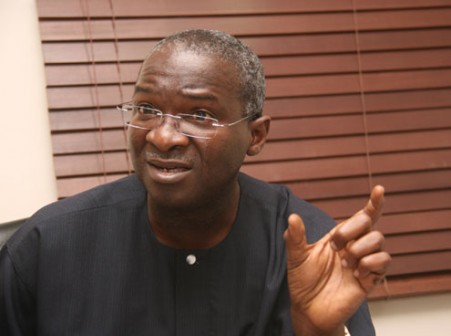 Governor Fashola who spoke at the Police College, Ikeja venue of the march past and parade ceremony which involved the police, voluntary organisations, school children and para military agencies added that "nobody will do it except ourselves".
"We can of course continue to agonise without organising, and in that sense betray the responsibility of our generation. Conversely, we can resolve from today to be part of the solution rather than the problem", he explained.
He recalled that during his 50th Anniversary address, he had cause to assert that Nigeria's good days are ahead of her and not behind her, stating that: "Today, in spite of the challenges that we face, my belief is unshaken; that our better days lie ahead of us, but it is more important to also say that we must earn it by working hard, probably harder than we have ever done before.
"We must earn it by promoting our common humanity and embracing peace, probably more than we have ever done before. We must aspire to those better days which lie ahead of us by exercising the greatest restraint that we can muster when things are not going the way we expect."
The Governor who explained that he should not be misunderstood to be suggesting that Nigerians must remain docile in the face of want, hunger, poverty and insecurity, noting that options and choices must be considered to redress those wrongs without aggravating its already difficult situation.