Chief Mbazuluike Amaechi, a.k.a. The Boy is Good, general secretary of the Zikist Movement before independence, is a living lion. His bravery earned him that sobriquet from Dr. Nnamdi Azikiwe, Nigeria's first president. In this interview with JUDE ORJI, the former labour leader, elected parliamentary secretary and later minister of Aviation – in which post he established the Nigeria Airways – warns that Nigeria is going insolvent due to corrupt leaders, a departure from the sacrifices of the founding fathers. According to him, if the stealing and looting continues till 2015, the nation may break up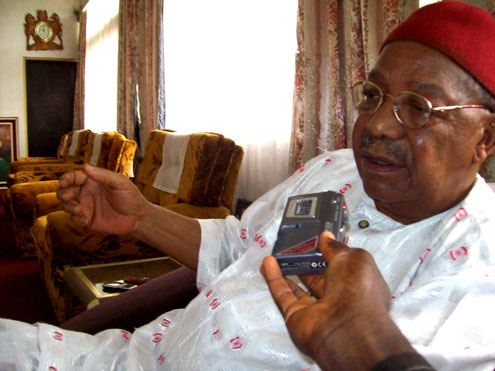 As one of the founding fathers of Nigeria, how do you measure the country's development vis-a-avis her contemporaries at independence like Brazil, Pakistan and Egypt in the last 51 years?
On 1 October this year, Nigeria would be celebrating her 51st anniversary as an independent, sovereign nation. It has not been a very smooth sail throughout. Six years into independence the military intervened in the governance of Nigeria and seized power from the nationalists who fought for independence, a struggle that started in the late 1930s.
The government of Western Region was first headed by Obafemi Awolowo, who resigned to become leader of the opposition at the federal level. The nationalists that took over the government at independence made education their first priority. Dr. Azikiwe established the University of Nigeria at Nsukka, the Sardauna of Sokoto, as premier of the North established Ahmadu Bello University at Zaria and Awolowo established the University of Ife, now Obafemi Awolowo University, Ile-Ife. We were anxious to produce educated young men and women to take over the administration, the schools and lead the industries and so forth.
But unfortunately, six years into independence, on 15 January 1966, an unpatriotic military struck and took over the government of the country, killing the Prime Minister of the country, Minister of Finance, and two of the premiers, Ladoke Akintola and the Sardauna. Then, the struggle within the military, between Chukwuemeka Ojukwu and Yakubu Gowon over who should head the government, led to a civil war that lasted for three years. Thereafter, the military continued in government for 38 years.
What have we achieved in 51 years of independence? India that was a colony like Nigeria but attained independence before us is still running a democracy since their independence in 1947. Today, India manufactures railway engines, motor vehicles, and all sorts of things. Today, Nigeria after 51 years cannot manufacture bicycle spoke, cannot produce engine, cannot produce anything. We depend on imports.
What have we achieved so far as a nation and what is still lacking?
I don't see what we have achieved, honestly. What has been achieved, perhaps, is that the country now is one of the richest in the world. But good government, honesty and integrity in public life are lacking.
The first military coup plotters accused First Republic politicians of being 10 percent bribe takers and of indulging in over-invoicing. Can you compare the corruption in government now and during your era?
Good. If somebody is corrupt and becomes rich by corruption, the evidence of that wealth would be seen. I challenge those who carried out the coup and accused the nationalists in government of corruption to prove it. Sardauma of Sokoto was the premier of Northern Region three or four years before independence and for six years after independence; I want them to point out one building in Kaduna – built or bought – owned by the late Sarduana. I want them to point out one house that Dr. Azikwe built, apart from the hostel he built to attach to the University of Nigeria with a loan from the ACB. But when people misunderstood his intention he surrendered the building to ACB and to the university. Where did Zik build his own personal house? Dr. Okpara who succeeded Zik and was Premier of Eastern Region for six years did not own a single house in his village. It was after the war that friends raised money and built a house for him, in 1979, before he returned from exile. The same thing with Obafemi Awolowo. The same thing with Okotie-Eboh, who became rich by trading in rubber at Sapele before he was made the Minister of Finance. Or like myself. When I came into the ministry of Aviation, Nigeria broke away from the West African Airways Corporation jointly owned by Nigeria, Sierra-Leone, Gambia and Ghana. Nigeria Airways had a fleet of 18 aircraft, including 10 wide-bodied. At the time I left Nigeria Airways in January 1966, I left over 18 aircraft and over 10 intercontinental aeroplanes – the DC 10, VC 10 and so forth. What happened? The military sold the entire airplanes, sold everything, and now Nigeria Airways has died. The company went into liquidation under the military. I have written my autobiography and I said, at the time the military took over, as a minister what I had in the bank was £320 pounds. But today if somebody was a minister for only six months or one year, he is as rich as any state in this country.
The military are thieves they produce thieves. The military are looters, they produce looters. The military are undisciplined and they produce people who have no conscience in dealing with their country.
Some years ago, the United States of America predicted that Nigeria would break up in 2015. Are there signs to that effect? And how can it be averted?
If there are signs, I have not seen them. I see signs though that unless the present trend of corruption and stealing is stopped we might become a bankrupt nation. And if bankruptcy comes, anarchy steps in, and if anarchy steps in, it could lead to a break-up. But, personally, I have not seen any serious signs of that.
Do you feel disillusioned about Nigeria still a toddler at 51?
No! You have children who are early in growth and early in walking and crawling. And you have babies who stand up at the age of eight months. There are others who do not stand up at 12 months. So, all is not lost.
Can you juxtapose the quality of today's leaders with that of the First Republic?
There is no basis for comparison.
visit www.thenewsafrica.com for more stories