President Goodluck Ebele Jonathan will launch a job creation scheme that enables young people with knowledge and capacity to employ other young people.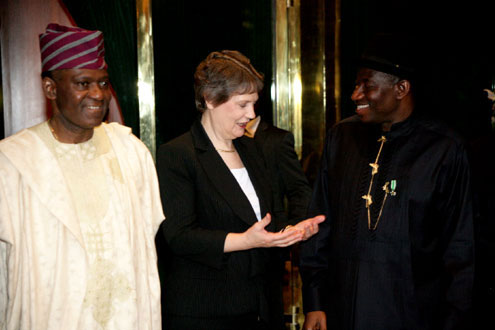 President Jonathan disclosed this to Mrs. Helen Clark, Administrator of the United Nations Development Programme, UNDP, at State House, Tuesday.
'We are going to launch a programme to enable young people create jobs for other young people', he said, adding that, 'instead of government creating a hundred jobs, we will encourage those hundred to create enterprises and employ other young people, thereby multiplying the jobs possible'.
The President appealed to UNDP to 'robustly assist Nigeria in this programme aimed at providing jobs for the young people', informing Mrs. Clark that by November 2011, Nigeria's population would rise to 166 million, with 50 per cent under 35 years of age.
President Jonathan said he appointed private sector operators into the country's Economic Management Team in full recognition of the crucial role which that sector plays in the provision of employment, and pledged Nigeria's willingness to partner with the UNDP in all areas of national development.
The President also expressed condolence to the UN family on the bomb blast at the UN Building in Abuja.
Earlier, Mrs. Helen Clark had told President Jonathan that she came to Nigeria to offer the world body's 'support for your vision for transformation of Nigeria', adding that UNDP desired to add value and expertise to government's efforts in the challenging areas of health, environment, poverty reduction, climate change, agriculture and women development.
Mrs. Clark acknowledged that most countries were facing the challenges of youth unemployment, but said efforts must continue to be made to provide jobs, schools, shelter and food for this most important segment of society.
The UN Administrator commended Nigeria for 'the tremendous support' provided to the UN since the bomb blast, especially in health care, adding that this was evidenced by the fact that none of the blast victims taken out alive from the scene died.
Meanwhile, President Jonathan has restated his commitment to building virile institutions in the country, as a way of strengthening Nigeria's democracy and making the country a better place for all.
He said this while speaking to the new Belgian Ambassador to Nigeria, Mr. Dirk Verheyen, after he presented letters accrediting him to Nigeria.
"You need strong institutions for a country to successfully practice federalism, and I am committed to building them in Nigeria", said the President.
The President commended the warm relations between Nigeria and Belgium, reminding the new Ambassador of several outstanding bilateral issues.
Also receiving the new German Ambassador to Nigeria, Mrs. Dorothee Jaretzke-Wenzel, at a separate audience, President Jonathan said Nigeria had power supply challenges, and was already in negotiations with Germany towards attracting investors into the power sector.
He stated that current efforts at increasing power supply would definitely be fruitful.
The President also received the letters of credence of the new Rwandan High Commissioner to Nigeria, Mr. Joseph Habineza.
The new Ambassadors thanked President Jonathan for receiving them, and pledged to work hard to further strengthen the already warm and cordial relations between their countries and Nigeria.