The Council of State intervenes at critical periods in Nigeria but as individuals, its members, especially former presidents and heads of state, are a bundle of contradictions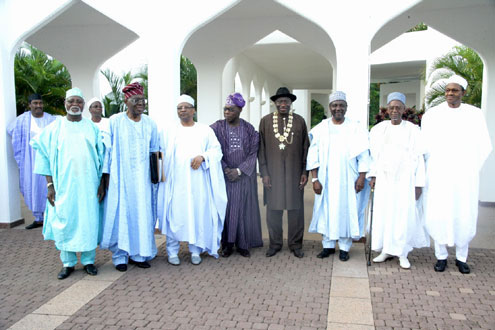 Whenever the ship of state is adrift, appearing as if it would, like the Titanic, collide with an iceberg, the Council of State has, many times, intervened. It advises the executive on policy making. It is made up of the President, Vice-President, former Presidents or former Heads of the State; past Chief Justices of Nigeria; President of the Senate; Speaker of the House of Representatives; all the Governors and the Attorneys-General of the Federation.
It counsels the President whenever requested to do so on the maintenance of public order, as the Boko Haram menace has shown.
When it held a meeting on 6 September 2011 in Abuja, the Council okayed the overhaul of the country's security apparatus. Recently, the Council held a meeting in Abuja and agreed that there should be a national dialogue. It also approved the N18,000 minimum wage. Last year, when there was a logjam on whether or not Dr. Goodluck Jonathan should step in as acting President, the Council's intervention was like hot knife cutting through butter!
Beyond being a voice of wisdom when everything was almost going kaput, members of the Council visit Aso Rock with their flowing gowns, picturesque caps, wrinkly but grinning faces to celeberate with the President on festive occasions like the Independence Anniversary. The only trouble, however, is that as a group, the Council has been a stabilising lever in times of trouble, but as individuals, many of the members, given the way they messed up the country, have no moral authority to now glide about as troubleshooters.
In the view of critics, many of them contributed to how Nigeria became a socio-economic and political sinkhole. It is for this reason that Nigerians, in the spirit of the Independence Anniversary last week, assessed the Council members, especially, past leaders.
Leadership, in the words of critics, has a great percentage of blame to take in the past 51 years. Kole Omotosho, a renowned professor of Literature, recently argued that you cannot have an unsuccessful country with successful leaders. This was corrobrated by Odia Ofeimun, a poet who posited: "If Nigeria is unsuccessful, it means Obasanjo was a failure, Buhari was a failure, Babangida was a failure, Abacha was a failure, Gowon was a failure."
While some of them were sincere about what they did but were only victims of their own hubris and bad judgment or political circumstances, others, when they had opportunity to make Nigeria great, bungled it and ended up as unmitigated disasters. Now the mixed bag!
Dr. Nnamdi Azikiwe
Popularly known as Zik of Africa, Benjamin Nnamdi Azikiwe was the first indigenous Governor-General of Nigeria and later ceremonial President in the county's first and only Westminister model of government.
Born on 16 November 1904 in Zungeru, Northern Nigeria, Zik was educated at Hope Waddell Training Institution, Calabar, Howard University, Washington DC, Lincoln University and University of Pennsylvania. After his master's degree in 1933 from the University of Pennsylvania, he returned to Africa as the editor for the African Morning Post, a daily newspaper in Accra, Ghana, where he promoted a pro-African nationalist agenda.
He continued this struggle when he returned to Lagos, Nigeria, in 1937 and established the West African Pilot, became active in the Nigerian Youth Movement, NYM, and set up the National Council of Nigeria and the Cameroons, NCNC, with Herbert Macaulay in 1944.
After being leader of opposition in the West, Chief Minister, and in 1954, Premier of the Eastern Region, he, on 16 November 1960, became the Governor-General of Nigeria. And in 1963, when the country became a Republic, he became the first President of Nigeria, while Abubakar Tafawa Balewa was the Prime Minister.
He and his political contemporaries were, however, overthrown in the 1966 coup. When the ban on politics was lifted, he contested for the presidency in 1979 and 1983 on the platform of the Nigeria People's Party, NPP. He died on 11 May 1996.
However, critics think that Zik, as a post-independence politician, allowed his self interest to take a better part of him by pitching his tent with conservative elements that did not have progressive agenda for the country. But as a nationalist, fighting for independence for his people, Zik, according to them, was a fantastic figure.
Ofeimun, poet and social critic, characterised Zik thus: "Zik was a great inspirer. He mobilised by building linkages between people rather than setting goals clearly…He defined Nigeria and Africa in global terms without looking at the nitty-gritty of organisational and structural forms. He started playing the role of sermonising, telling people how to do this, how to do that. He talked about things he did not have the mobilisation for or the structures to pursue because he had been completely outmanoeuvred"(by the British and Northern People's Congress).
Abubakar Tafawa Balewa
He was the Prime Minister of Nigeria between 1 October 1960 and 15 January 1966. Born in 1912 in Bauchi, he was educated at a Koranic school in the city, the Katsina College and spent a year at the University of London's Institute of Education. After a brief spell as an inspector of schools for the colonial administration, he was elected in 1946, to the colony's Northern House of Assembly and to the Legislative Assembly in 1947.
He was a strong defender of the North, his region. It was as a result of this that he, together with Alhaji Ahmadu Bello, the Sardauna of Sokoto, founded the Northern People's Congress, NPC, on which platform he later became Prime Minister (Zik was President) after the party formed a coalition with NCNC. Before that, he was Minister of Works and Transport.
While his critics waved him off with disdain in terms of domestic matters, his admirers adulated him for his diplomacy. In fact, he was one of those instrumental to the the formation of the Organisation of African Unity (now African Union).
Under his govenment, there were electoral protests in the West, which resulted in a coup in 1966.
However, Alhaji Abdulkarim Daiyabu, National President, Movement for Justice in Nigeria, MOJIN, appraised the Zik/Balewa government as the best. In that parliamentary system, he said, only three per cent of the total budget of the country was being spent on the legislature, as such, corruption was minimal. He added that agriculture was the backbone of the nation's economy (hides and skin, cotton, groundnut, cocoa and coal). Balewa, according to him, died a poor man.
However, Daiyabu argued that the military intervention hijacked oil exploration and relegated agricultural products. "When the government started making money directly from crude oil without going back to the masses, the farmers, miners, blacksmiths, dyers, tanners, leather workers and other artisans were totally abandoned by the government. So, what I want to tell you is that, the Tafawa Balewa/Nnamdi Azikiwe government was the best thing that ever happened to Nigeria," said Daiyabu. He however revealed what went wrong with that government was that some people, for their selfish interest, took advantage of the way the government was fashioned "to promote ethnicism, which resulted in a military coup and then, the civil war".
Tanko Yakassai, a politician, praised the Balewa government for building the Kainji Dam, maintaining the rail system and for depending on economic planning. He, however, lamented that it was people who did not agree with Balewa that "accused him of slow action in running the affairs of government".
Balewa blew the chance to lay a solid foundation for the development of Nigeria. Elections under his administration were characterised by rigging and violence, which eventually culminated in emergency rule in the West and the 1966 coup.
Aguiyi-Ironsi
Major-General Johnson Thomas Umunnakwe Aguiyi-Ironsi was the Head of State from 16 January to 29 July 1966.
Born on 3 March 1924, in Umuahia-Ibeku, Abia State, he spent his early childhood with his brother-in law, Theophilius Johnson, a Sierra Leonean diplomat, in Umuahia. After his early education, he joined the Nigerian Army on 2 February 1942 and was trained at Eaton Hall, England and the Royal Army Ordnance Corps, after which he was commissioned as an infantry officer and a Lieutenant, on 12 June 1949.
At various times, he was aide de camp to John Macpherson, Governor-General of Nigeria, and an equerry to Queen Elizabeth II when she visited Nigeria in 1956. In the 1960s, he played a prominent role in the Congo, when he led the 5th Battalion to the Kivu and Leopoldville provinces. For his efforts, he was appointed the Force Commander of the United Nations Operations in that country.
He returned to Nigeria in 1964 to take over from Major General Welby Everard as the first Nigerian General Officer Commanding, GOC, the Nigerian Army under the Zik-Balewa government. As the most senior army officer, he became Head of State on 15 January 1966, when the five majors, led by Kaduna Nzeogwu, seized power. Those who lost their lives were: Balewa; Bello; and Samuel Ladoke Akintola, Premier of the Western Region, as well as several high ranking Northern army officers.
Although he removed the Circulation of Newspaper Decree No.2 , he re-introduced the Defamatory and Offensive Decree No. 44 of 1966 which made it an "offence to display or pass on pictorial representation, sing songs, or play instruments the words of which are likely to provoke any section of the country."
His first task was to build a country that was torn apart by conflicts. Since the politicians who died were preponderantly Northerners, there was a deep interpretation that it was an Igbo coup, executed for the benefit of the ethnic group. It was a suspicion that was given more fuel by the fact that Ironsi did not punish the coupists. Then some military officers, led by Theophilus Danjuma, staged a counter-coup in which he and his host, Lt. Col. Adekunle Fajuyi, were killed in Ibadan in July 1966.
Yakassai argued that Ironsi was in a hurry to impose unitary government on the country (Decree No. 34) and he decided to run his government without the participation of the political class. "Honestly, I don't know what I would say was his achievement. But clearly, by isolating himself from civilian leadership, he created a situation, which led to his isolation from the general public and to his downfall."
Daiyabu added that Ironsi came to implement the thinking of some people, who believed that the northern leaders had dominated the economy and politics. "His first action was to fight and demystify the Emirs and the Chiefs. Before he could succeed in eliminating the powers of the traditional rulers, he died. And we ended up with a civil war," he said.
Yakubu Gowon
General Yakubu Gowon was the beneficiary of the 27 July 1966 counter-coup. He was born on 19 October 1934 in Kanke, Plateau State. Gowon had his early education at St Batholomew School, Wusasa, and Government College, Zaria, before joining the Nigerian Army in 1954. He was commissioned a Second Lieutenant on 19 October the following year, aged 21.
His military trainings took him to the Royal Military Academy, Sandhurst, UK; Staff College, Camberley, UK and, in 1965, the Joint Staff College, Latimer. He also participated in the UN peace keeping operations in the Congo in 1960 and 1963.
He, as a Lieutenant-Colonel, rose steadily in his military career to become a battalion commander by 1966.
With the death of Ironsi, Gowon became Nigeria's youngest Head of State. But the coup against Ironsi (an Igbo) created a contagion: pogrom that claimed the lives of more than 50,000 Easterners in the North. This made Lieutenant-Colonel Chukwuemeka Odumegwu-Ojukwu, military governor of the Eastern Region, to lead the Biafran seccession. The civil war, which Gowon derisively waved off as a "police operation", lasted three years.
To bring developments to the grassroots, Gowon increased the number of states from three to 12 on 5 May 1967, a move which many saw as a ploy to weaken the influence of Ojukwu. They were: North-Western State, North-Eastern State, Kano State, North-Central State, Benue-Plateau State, Kwara State, Western State, Lagos State, Mid-Western State, and, from Ojukwu's Eastern Region, Rivers State, South-Eastern State, and East-Central State.
Apart from state creation and keeping the country together, Gowon, embarked on huge infrastructure development, especially the development of Lagos, into an international city.
The negative side of Gowon's administration was, as Tanko Yakassai put it, his failure to return the country to civilian democracy by 1976, as he previously promised. "It was the abandonment of that undertaking that led to his downfall," Yakassai reckoned.
According to Daiyabu, Gowon summoned all the disgruntled elements who were marginalised and maltreated by the Ironsi government. "That was why people like Chief Obafemi Awolowo and Malam Aminu Kano were on board in Gowon's government and they gave him the full cooperation to bring the country together. And he succeeded, becoming the longest serving head of state," explained Daiyabu.
However, Daiyabu said that Gowon gave too much power to state governors that he could not control them, even when some of them misused such powers.
However, Ofeimun submitted that Gowon actually was a different leader from all of them, not because he was a soldier, "but because he was the last man with whom genuine civilian authority interacted. After Gowon, what we had was down the stream. But we were making a lot of money. In fact, between 1999 and 2011, Nigeria's GDP grew five-fold. But what do we have to show for it?"
General Murtala Muhammed
He was in power from 1975 to 1976. In the triumvirate also were Brigadiers Obasanjo (later Lt.General) and Danjuma (later Lt.General), Chief of Staff, Supreme Headquarters and Chief of Army Staff, respectively. Born in Kano on 8 November 1938, Muhammed attended Barewa College, Zaria and was trained at the Royal Military Academy, Sandhurst, United Kingdom. In 1962, he also was involved in peacekeeping operations in the Congo.
Yakassai is of the view that Muhammed's administration came in with vigour. It was to the credit of that administration that the decision to create a new federal capital of Nigeria was taken, even though the programme was started at the time of Gowon. Murtala's administration also led to the convening of 1976 constitutional conference and the adoption of the presidential system of government in the country.
According to Daiyabu, Muhammed fixed a date to return power to a democratically elected government. Secondly, he de-congested the ports, which gulped N1.5 billion. He wielded the corporate axe and severed the heads of many public officers, a development that sent many permanent secretaries tumbling down from their thrones.
In that weeding exercise, more than 10,000 public officials and employees from the civil service, judiciary, police and armed forces, diplomatic service, public corporations, and universities were dismissed without benefits, "on account of age, health, incompetence, or malpractice."
Critics regard that mass sack as the origin of insecurity in the civil service, a state of affairs that made (and still does) public servants to steal as much as they can for the uncertain future.
His radical foreign policy, however, made him a darling of the oppressed, especially his position on Angola. In 1975, he announced Nigeria's support for the Soviet-backed Popular Movement for the Liberation of Angola, because, according to him, South Africa supported the rival National Union for the Total Independence of Angola (União Nacional para a Independência Total de Angola). This action irked the United States. Muhammed was murdered on 13 February 1976 in an aborted coup, led by Lt. Col Bukar Suka Dimka.
Olusegun Obasanjo
General Olusegun Obasanjo had opportunities to rule Nigeria twice: from 13 February 1976 to 30 September 1979, as a military Head of State, and 1999 to 2007, as a civilian leader. He was born on 5 March 1937, in Abeokuta and attended Baptist Boys' High School in the city, after which he joined the army in 1958. After his military training in Aldershot, England, he, apart from his exploits in the Congo, held many command positions, the most dramatic of which was the Third Marine Commando Division that took Owerri from Biafra, thus bringing an end to the civil war. When the coup that killed Muhammed was foiled because, according some analysts, the plotters missed Obasanjo and General Theophilus Danjuma, Obasanjo became the new leader.
Despite the huge revenues from oil, critics accuse Obasanjo of inability to invest well. Apart from repression of critics, the decline of the education sector, according to analysts, started under him. The "Ali Must Go" protests were a proof. While many praised him for handing over power to civilians in 1979, others believed that he was intimidated by Yar'Adua and Danjuma.
In the area of diplomacy, Obasanjo was able to win the support of the West, which had regarded Nigeria as a pariah when the military piranhas were in power. And with regard to regional peacekeeping missions in Sierra Leone and Liberia, Obasanjo received plaudits.
However, he was attacked at home for high-handedness, as was the case with Odi in Bayelsa State and Zaki-Biam in Benue State. He was re-elected in 2003, but later attempted to elongate his tenure, a move that was massively resisted by Nigerians, many of whom believed that the much vaunted willingness to surrender power to civilians in 1979 was a ruse. His inability to turn around the power sector was also a great setback for the country's economy.
However, under him, Nigeria's foreign reserves rose from $2 billion in 1999 to $43 billion on leaving office in 2007. But critics compared him to a panjandrum field accountant, who starved his staff in order to remit unspent money back to the head office! But his supporters praised him for the $18 billion debt pardon that he was able to secure from the Paris and London clubs. He left power in 2007.
Daiyabu was scathing in his appraisal of Obasanjo. He said during this regime the nation's till was mindlessly looted.
Ofeimun was also of the opinion that Obasanjo could be regarded as the representative of the military in every sense. He destroyed everything that enables a society to move forward. In his first coming, Ofeimun said, Obasanjo took the loan that landed Nigeria in the mess that it is still in today. But that was not what was terrible about him, he argued, adding that at that time, Obasanjo was a nationalistic leader who would nationalise BP and he carried out an indigenisation policy.
"Now, when you are indigenising," Ofeimun argued, "you are supposed to have a long term strategy. All the indigenised companies, what happened to them? They were destroyed by the policies that they embraced as a result of those big, big loans."
In his second coming, after Babangida, Obasanjo was, according to Ofeimun, to hand everything back to the private sector. Ofeimun added: "The purpose of handing everything back to the private sector is that the World Bank, those that I called undertaker economists, believed going the private sector way was how the society could develop. So, Obasanjo sold all the big companies and as we have seen, all the privatisation they have done since 1985 has landed Nigeria in a mess. There is nothing in it."
Shehu Shagari
He was Nigerian President from 1999 to 1983. He was born in Shagari village in 1925 and started Qu'ranic school at the age of four. After his elementary school, he attened the Sokoto Middle School and later Kaduna College where he was trained as a teacher. He taught in Sokoto and Zaria Middle School.
Shagari was among the northern political elite that formed the NPC. He was Minister of Economic Development in 1960, Minister of Internal Affairs in 1962 and Minister of Works and Survey in 1965. And under Gowon, he was Minister of Economic Affairs and later of Finance.
When the ban on politics was lifted in 1978, Shagari was among the politicians of northern extraction who formed the National Party of Nigeria, NPN. He contested on its platform for the presidency and won in 1979.
His administration was infamous for big, but unsuccessful programmes in housing, agriculture and the economy in general. It established the Delta Steel Complex, Ajaokuta Steel Complex and a number of steel rolling mills, all of which turned out to be spectacularly poor investments. His apologists argue that his Economic Stabilisation Programme was designed "to limit import licences, already abused by the moneybag and officials, reduce government spending and raise custom duties". Critics, however, maintain that this had no effect whatsoever. Among the criticisms against his government, corruption was the worst, a state of affairs that gave the military the excuse to terminate it in 1983.
Yakassai argued that the misfortune of Shagari were two: At the beginning of his administration, there was an oil boom, which led to increased revenue to all tiers of government in the country. But he had a misfortune that a year after the oil boom, there was a worldwide oil glut that drastically reduced the amount of revenue that accrued to oil-producing nations the world over. That sudden fall of revenue plunged Nigeria into economic crisis and federal and state governments were unable to realise sufficient funds due to sudden reduction of their revenue earning capacity, which led to economic crisis during his era. "That created an opportunity for his opponents to accuse him of economic mismanagement." Yakassai submitted.
Muhammadu Buhari
Muhammadu Buhari was military Head of State from 31 December 1983 to 27 August 1985. He was born on 17 December 1942 in Daura, Katsina State. He had his military training in Aldershot, England, and held many command positions, among which was head of the Third Armoured Division, Jos.
Also, Buhari was variously governor of the defunct North-Eastern State and Federal Commissioner for Petroleum and Natural Resources.
After overthrowing Shagari's government, he and his deputy, Tunde Idiagbon, initiated a public campaign against indiscipline known as "War Against Indiscipline", WAI. It was aimed at ensuring punctuality, cleanliness, ordeliness on queues and integrity among other virtues.
Buhari's regime was notorious for its high-handedness: detention without trial, gagging of the press for which it waxed the infamous Decree Number 4 with which Tunde Thompson and Nduka Irabor of The Guardian were jailed. Apart from outlawing strikes, he established his own (National) Security Organisation, through which he dealt with critics and perceived enemies of his government, among whom was the musician, Fela Anikulapo-Kuti.
Before he was overthrown by Ibrahim Babangida, Buhari had no plan to transfer power to civilians. Buhari, in 2003 and 2007, contested the presidential election on the platform of the All Nigeria People's Party, ANPP and in 2011, with the ticket of the Congress for Progressive Change, but failed.
Ibrahim Babangida
He was Nigeria's maximum ruler from 27 August 1985 to August 1993. He was born on 17 August 1941 in Minna, Niger State. Babangida, IBB for style, enlisted in the Army on 10 December 1962. He had his military training at the India Military School in 1964; the Royal Armoured Centre, UK; Command and Staff College, Jaji and the Naval Post Graduate School, U.S. in 1980.
When Buhari was in power, IBB was the Chief of Army Staff and a member of the Supreme Military Council, SMC. He overthrew Buhari on 27 August 1985 in a bloodless military coup.
He instituted many developmental programmes: People's Bank of Nigeria, National Directorate for Employment, Road Safety Commission, National Directorate for Food, Roads and Rural Infrastructure, Better Life for Rural Women, National Economic Reconstruction Fund and others.
However, IBB goes down in history as the leader that set in motion Nigeria's economic woes with his introduction of the Structural Adjustment Programme, SAP, which led to a heavy devaluation of the naira. All these sent inflation skywards, resulting in fallen standard of living, so much that the middle class was wiped off. Professionals in various fields also began fleeing the country on account of the gloomy economic climate.
All these were worsened by the high rate of corruption, something that earned Babangida the reputation of the man who instituted of corruption in Nigeria. He promoted what the late Bola Ige described as the ''Settlement Syndrome''
On Babangida, Daiyabu said: "Privatisation and commercialisation carried out by the regime ruined the country. They privatised everything, including the oil wells and oil blocs, airlines and ships. They destroyed our local refineries only to build their private refineries in places like Cote d'Ivoire and Republic of Benin."
IBB blew the chance of becoming a legend when he annulled the most credible election in the nation's history–the 1993 presidential poll, won by the late Chief MKO Abiola. This sparked political violence in the country, a development that forced him to step aside after putting in place an interim government, headed by Chief Ernest Shonekan.
Chief Ernest Shonekan
His stay in office, as the Head of the Interim National Government created by Babangida, was the shortest of any Nigerian leader–less than three months. Shonekan, a former United African Company, UAC, Chairman, was born on 9 May 1936 in Lagos by parents of Egba origin.
Being an appointee of the military, he was a bonafide puppet. His public image also suffered, as he was derided, especially by the Yoruba, who felt he was part of the army's game to keep Abiola out of power. In November 1993, General Sani Abacha forced him to resign. Shonekan got no sympathy over his unceremonius exit.
Daiyabu summarised Shonekan's government thus: "His coming into power was so dramatic. You can imagine someone coming into power without vote, no political party, much more democracy. It was ridiculous; a disaster. He could not last long."
General Sani Abacha
After the forced resignation of Shonekan, General Abacha stepped in to foist the worst dictatorship on Nigeria. He was in power from 17 November 1993 to 8 June 1998 when he succumbed to death. Abacha, who was born in Kano on 20 September 1943, was educated at the Kano Provincial School and Military Training College, Kano and the Mons Defence Officers Cadet Training College in Aldershot, England.
He was one of the coupists that brought in Buhari and Babangida, under whom he was the Chief of Army Staff and, later, Minister of Defence.
During his reign, Abacha had the worst human rights record ever in the history of Nigeria. It was his government that killed the Ogoni activist, Ken Saro-Wiwa, incarcerated Abiola and put Obasanjo behind bars on a false coup charge.
He and IBB occupied front row seats in the corruption hall of shame. In fact, Abacha and his family stole over £5 billion. He also attempted and very nearly succeeded in transmuting to a civilian president.
He died in June 1998 and General Abdulsalami Abubakar was sworn in as the country's head of state.
According to Daiyabu, when Sani Abacha came, he tried to continue with the plans of Babangida because Babangida did not intend to leave power. He tried to make himself life president. He tried severally to increase the prices of petroleum products and got strong opposition from the civil society.
General Abdusalami Abubakar
General Abdulsalami Abubakar, Head of State from 9 June 1998 to 29 May 1999, was born on 13 June 1942 in Minna. He attended the Native Authority Primary School, the Provincial Secondary School in Bida, and the Technical Institute, Kaduna, after which he joined the army.
Immediately he came to power, he put in place a transition process. First, he established the Independent National Electoral Commission, INEC, and appointed former Supreme Court Justice Ephraim Akpata as its chairman. He conducted council elections in 1998 and followed them up with those of state assemblies, governorship, National Assembly and finally for president.
Whatever political efforts he made were tainted by the criticism that Abiola was murdered under his watch.
Abdulsalami, as Daiyabu argued, used the opportunity of his office to accumulate so much wealth for himself. "He got this idea from his mentor–Babangida," he said.
Umaru Musa Yar'Adua
He became president after the failure of Obasanjo's sit tight plan. Umaru Yar'Adua, who was in power from 29 May 2007 to 5 May 2010, was educated at Rafukka Primary School, Dutsinma Boarding Primary School, Government College at Keffi from 1965 until 1969; Barewa College for his Higher School Certificate and Ahmadu Bello University from where he obtained his B.Sc. degree in Education and Chemistry and, in 1978, an M.Sc. degree in Analytical Chemistry.
Yar'Adua was one of the foundation members of the Peoples Front (headed by his elder brother, the late Major-General Shehu Musa Yar'Adua) which melted into the defunct Social Democratic Party. He was, between 29 May 1999 and 28 May 2007 the Governor of Katsina State, after which he became President. During his rule, he attended more to his health than matters of state.
When illness overwhelmed him, the Senate, on 9 February 2010, decided that presidential power be transferred to his deputy, Dr. Goodluck Jonathan, who became acting President.
When he was in power, he could not fix the worsening power situation. But whatever could be his fault, he initiated the amnesty programme that brought peace to the Niger Delta.
Yar'Adua, as Daiyabu argued, was only planted to last for a few months because everybody knew that he was sick. When he came, despite being ill, he appeared to try to make some changes even though the Peoples Democratic Party, PDP, which he belonged to, is somewhat like a cult. But having seen the political crises between Obasanjo and those who brought him into power, Umaru assumed that he could be his own man, even though he needed them. "He tried to distance himself from Obasanjo, but unfortunately, he could not last for long. When the sickness became serious, his wife, Turai and a few individuals in the corridors of power continued to control the government as if he was the one doing it. But nothing is being said about him looting the treasury like Obasanjo or Babangida," he said.
President Goodluck Jonathan
Jonathan was born on 20 November 1957 in Otueke in Ogbia Local Government Area of Bayelsa State.
He attended the University of Port Harcourt from where he obtained his M.Sc. in Hydrobiology and Fisheries Biology, and a Ph.D in Zoology, after which he worked as an education inspector, lecturer, and environmental protection officer. It was after this that he joined politics.
He was Deputy Governor to Diepreye Alamieyeseigha and later governor of Bayelsa State from 9 December 2005 to 28 May 2007, when he became Vice-President.
Jonathan continued with the amnesty initiative of his predecessor and he is carrying out a reform of the power sector.
However, Jonathan's greatest problem is insecurity (kidnapping and terrorism), a situation that has been attracting comments in the media on whether or not he is equal to the task of ruling the country. The flak came in so much torrents that Jonathan recently blew his top!
At a church service to commemorate Nigeria's 51st Independence Anniversary on 25 September at the Abuja Ecumenical Centre, he thanked those who have been praying for him and his team, but he took a dig at his critics who wanted him "to be a lion or a tiger, somebody that has that kind of strength and force and agility to make things happen the way they think".
He attacked others also for wanting him to operate like an army general, like a Chief of Army Staff, commanding his troops. "Incidentally," he added, "I am not a lion; I am not also a general. Somebody will want the President to operate like the kings of Syria, Babylon, Egypt, the Pharaoh, all-powerful people that you read about in the Bible. They want the president to operate that way, the characters of the Goliath. Unfortunately, I am not one of those," he said.
Indeed, Jonathan is embattled. But Ofeimun advised him to free himself from the sell-all government companies that Obasanjo instituted. "If he does not reverse this position, he will simply discover that the Obasanjo disease will infect him; he would begin to look around him and discover that there is nothing he has done," said Ofeimun.
The attacks on him notwithstanding, there are some analysts who believe that it is too early in the day to wave Jonathan off as a hopeless sissy. This is because he has just spent 100 days as an elected president. He may yet improve or be favoured by circumstances in time and space.
visit www.thenewsafrica.com for more stories
–Ademola Adegbamigbe, additional report: Oluokun Ayorinde/Abuja, Jude Orji/Enugu and Maduabuchi Mmeribeh/Kano