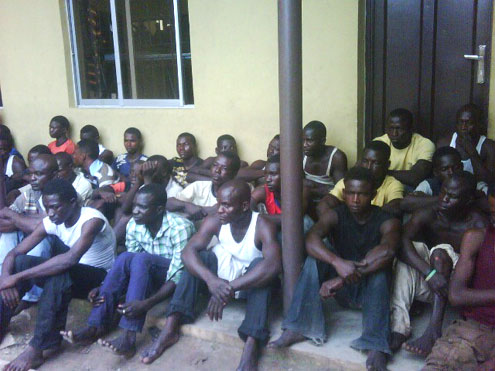 Officials of the Lagos State Taskforce on Environment and Offences (Enforcement) Unit have clashed with Hausa cattle sellers at Abattoir area of Agege, southwest Nigeria, over the demolition of their shanties.
After the clash, 46 cattle sellers and two foreigners were arrested for attacking government officials and will be prosecuted, says the taskforce Chairman, Supol Bayo Sulaiman.
Officials of the taskforce had stormed the railway line behind the abattoir and demolished over 100 shanties on Sunday after the cattle sellers were dislodged from the shanties as a result of security threat.
Shortly after the taskforce left the scene, the cattle sellers started re-building the shanties which were demolished on the order of Governor Babatunde Fashola.
On Wednesday, the taskforce officials stormed the area again to pull down the shanties that were rebuilt.
P.M.NEWS gathered that the taskforce officials were attacked by the cattle sellers with daggers, knives and stones, saying that their shanties must not be demolished.
During the clash which lasted for hours a paramilitary officer, Victor Ohimani was stabbed by one of the rioter, Iliasu Amodu, who claimed to be a Togolese.
The taskforce officials, led by Sulaiman released several canisters of teargas into the air to disperse the attackers.
Speaking with P.M.NEWS, the taskforce chairman, Sulaiman confirmed that the Hausa settlers attacked his officials for demolishing the shanties which they were rebuilding.
He said he was shocked that the Hausas came back to start rebuilding the shanties which were destroyed by the government on Sunday, saying that the taskforce would not allow them to come back to the place again.
Sulaiman stated that some taskforce officials had been deployed to ensure that the demolished shanties were not rebuilt again as government must sanitise the environment.
He said those arrested would be charged to court for attacking government officials with daggers, arrows and stones.