The King of World Beat, Otunba Sunday Ishola Adeniyi Adegeye aka King Sunny turned 65 recently. And the King as he is popularly called held a three in one celebration in Ondo, Ondo State: His birthday thanksgiving, his late mum's one year remembrance and the wedding ceremony of one of his daughters,Ruth. KSA spoke with PMEntertainment in his Igba, Ondo home about life at 65, his late mom and other issues.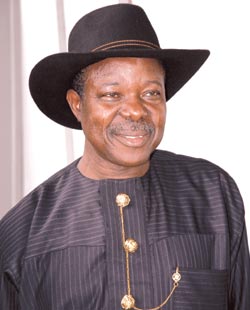 Why did you decide to make your daughter's wedding a low-key event?
The request was hers she told me that she wants just the registry and a reception,so I had to start calling my friends to apologize; moreover I had other things to celebrate, like my 65th birthday and my mum's one year remembrance. So, I don't want to start calling friends again and again, In fact, people may start raising eyebrow saying: na only him?
One year after, how much do you miss your mum?
I still miss her though my mum told me not to cry when she passes on, or when any person dies; but I tried my possible best not to cry when she died but I could not help it on the day she was buried and the same thing happened on the first year anniversary when I was about laying the wreath I realised that I was alone and that my mum is gone and that my adviser is gone, though I thank God that my mum died at a ripe age but I still miss her .
I still have daughters and sons but my appeal to you guys is that if you want to come and ask for my daughters' hand in marriage let her go to school first because I cherish education.
Do you still want to have more kids?
It is not that I still want to have more kids but if I decide not to raise kids any more and one of my wives insists on having one, who am I to refuse it? Except that happens, I don't want to have any for now what I am doing now is to beg and keep on begging them not to get pregnant again, because I have grandchildren that are up to 16 years old, and very soon I will become a great grandpa and you don't expect great grandpa to start fathering kids.
We learnt that Ademola Records based in Oyingbo, Lagos, is now the major distributor of your old works; how far is this true?
Well, you are right, because I was formerly with NIRA and since the agreement between us has lapsed and I found a new and reliable ally in Ademola records and I decided to give the job to him. Apart from the distribution, it will also help to curb piracy.
How many numbers did you give to him?
I gave him all my oldies.
What of the ones released by TYC owned by the late Bolarinwa Abioro?
Well, the case is still in court so I can't speak on those ones for now, but as far as all my oldies are concerned, the sole distributor is Ademola records. And to make the job easier, my company is the one printing the album sleeve to avoid any problem.
What is the duration of the agreement between you and Ademola Records?
It is a year agreement with option that if he performs, it could be renewed.
As a visiting lecturer to Obafemi Awolowo University, what was your first day in the classroom like?
It was interesting because rather than teaching I was discussing with the students, because before I went into the classroom the students have an insight into what they expected from me. They had entertained me and I did the same for them; in fact, I was very happy because my students have an insight into my brand of music. So, by the time I got into the classroom, it was as if I was being interviewed by the students while they responded by asking similar questions. I was very impressed and I thank the management of OAU for accepting the small set of equipments I donated to the music department.
At 65 how do you feel?
I thank God for my life and I thank God day-in day-out because someone had predicted that I have to be very careful because I may not live up to 60, but thank God, I am 65.
Are you planninig to retire soon?
You can't retire from music unless you want to retire from active stage shows. But I'm praying to God for strength because you and my fans will not allow me to quit the active stage shows.
How do you feel that none of your children is playing juju music; instead they chose hip hop and other types of music?
I did not Inherit music from my father. By playing music, I became a rebel in the family, and I damn the consequence. Now I make bold to tell you that those that went into hip hop are back to juju music.
How do you feel seeing your disciples in music dropping the guitar?
As far as KSA is concerned, I still play the guitar so whoever does not play it is on his or her own. The difference is that I hardly play the guitar at shows but at concerts, it is a must.
Sometimes, don't you feel embarrassed when you play for those that you either played at their naming or watched grow up?
There is one thing I appreciate in transport company that ply Lagos and the Eastern part of Nigeria, the company's slogan is 'the young shall grow' so I am presently playing for the third generation now and I pray that I will be able to play for the fourth generation. Let me give you an example: a young boy saw me about 16 years ago and said King you will play at my wedding but the mum almost slapped him but I stopped her and said that it is his wish and recently I played at his wedding. That shows consistency and God's favour. Well, the fourth generation, here I am.