Staff of Kaduna based New Nigerian Newspapers today embarked on a peaceful street protest in demand for their nine months outstanding salaries which have not been paid since January.
The staff who converged at the corporate headquarters of the company in Kaduna as early as 7 a.m marched through Ahmadu Bello Way to Waff Road, carrying placards which read: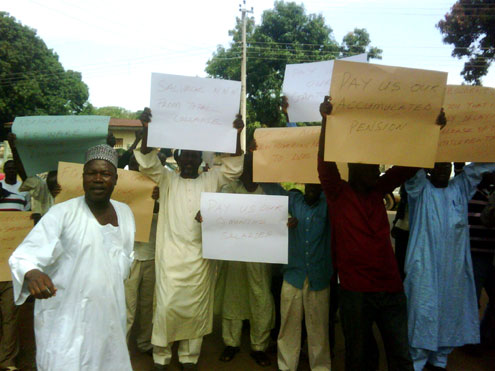 "We are dying, pay us our salaries now", "Northern governors, please wake up to your responsibilities", " pay us our accumulated pensions" and many others.
After the peaceful procession, the staff moved to Nigerian Union of Journalists Secretariat ,Kaduna to address the press on their grievances with management and northern governors , who according to some of them are "insensitive to their plights over the last 9 months".
After the briefing, the NNN Union Chairman ,Ibrahim Adamu told P.M.News that the staff have been patient enough and can no longer afford to wait endlessly , thus the peaceful protest to drive home their demands.
While he condemned the indifference of northern governors to their requests for intervention, he said the workers would embark on an indefinite strike, if the salaries are not paid within two weeks.
—Femi Adi/Kaduna