The absence of judges at the Federal High Court, Abeokuta, this morning stalled the trial of former Governor Gbenga Daniel of Ogun State by the Economic and Financial Crimes Commission (EFCC).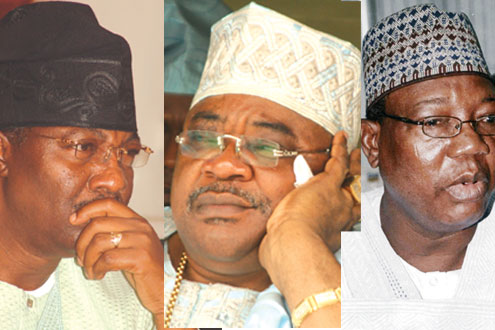 The judges are presently attending the Federal High Court new legal year service ceremony in Sokoto State. However, former governor Danjuma Goje of Gombe State has surrendered himself to EFCC.
As at the time of filing in this report, the situation was the same at the Federal High Courts in Ibadan and Abuja where former Governor Alao-Akala of Oyo State and his Nassarawa State counterpart, Akwe Doma, were expected to be arraigned respectively.
EFCC spokesman, Mr. Femi Babafemi, confirmed to P.M.NEWS that the absence of the federal judges may delay the arraignment of the defendants.
Babafemi, however, expressed optimism that the ex-governors might still be arraigned soon as the commission is exploring other avenues.
In Abeokuta, where Daniel was expected to be arraigned, text messages were sent from unknown sources, urging the former 20 local government chairmen and commissioners to each come with two bus loads of supporters to the venue of the trial in solidarity.
One of the past chairmen who pleaded anonymity confirmed receiving the text message but said many of his colleagues might not comply with it for fear that they might be arrested.
"My brother, truly, I received that text message urging me to bring supporters to Abeokuta this morning. I can tell you authoritatively that none of us will be in that court because we are also involved in the matter. The issue of illegal deduction of local government funds which forms part of the allegations against OGD also involves us. We are not going there because we may be arrested," he said.
He further hinted that some of the commissioners fled the state at the weekend to avoid arrest by the EFCC as most of the projects executed by them were not done through due process.
Another source in the present administration of Governor Ibikunle Amosun informed our reporter that the embattled ex-governor has been sending emissaries to Senator Amosun and Asiwaju Bola Ahmed Tinubu, pleading with them to help him out of his present predicament.
An aide to Amosun confirmed to P.M.NEWS that the governor has no hand in the arrest of Gbenga Daniel.
Meanwhile, the former governor of Gombe State, Danjuma Goje, today turned himself in after he was declared wanted last Friday by the Economic and Financial Crimes Commission, EFCC.
He is accused of misappropriating N52 billion while he was the governor of Gombe State. He is now an elected Senator of the Federal Republic of Nigeria.
Senator Goje was said to have been accompanied by Senator Alkali and a lawyer from Niyi Akintola Chambers to EFCC Headquarters in Abuja, Nigeria's capital early today where he was being quizzed by EFCC operatives at the time of this report.
Before Goje reported at EFCC's office today, his spokesman, Malam Yahaya Mohammed, had issued a statement, denouncing the declaration of his principal wanted.
"I was out of the country when I learnt that the EFCC had declared me wanted; there was no justification for its action.
"As former governor who served this nation for eight years and currently a Senator of the Federal Republic of Nigeria, I am ever ready to defend my action at all time. The allegation of corruption against me cannot stand. All financial resources entrusted in my care as governor of Gombe State were judiciously used. The records are there for everybody to access. He quoted Goje as saying:
"It is illogical for any body to have accused me of diverting N52 billion when you look at all the outstanding projects I executed in eight years.
"This is the price you pay for leadership in a country like our nation where all public officials are seen as corrupt people. I have no regret serving this nation.
"I will appear before the EFCC on Monday. I am ready to answer all questions about the purported corrupt practices."
—Biodun Onafuye/Abeokuta & Gbenro Adesina/Ibadan