The Governorship Petition Election Tribunal sitting in Iyaganku Area of Ibadan, capital of Oyo State wound up sitting today, reserving judgment on the petition filed by Peoples Democratic Party (PDP), challenging the qualification of Governor Abiola Ajimobi as a candidate in the April 26 governorship election.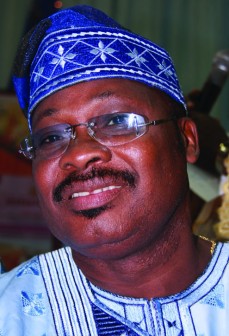 In its ruling, the chairman of the panel, Justice Abdulkadir Pindiga said that the date for the reading of the judgment would be communicated to all the parties involved.
Earlier, all the lawyers in the case adopted their written addresses.
The counsel to the petition, Mr. Nathaniel Oke (SAN) pointed out to the tribunal that the respondents did not call any witness for the purposes of debunking or evidentially disagreeing with the case as presented by the petitioner, urging the court to hold that ordinary mere affirmation in their response to the petitioner means that they agree with the petition.
He said: "None of the respondents cross-examined anyone, even our witness. Therefore, the petition is worth being allowed. We urge that the court hold our case and grant all the consequential reliefs because we have discharged the minimum burden of proof as required of us by law."
Counsel to the first and second respondents, Oluwarotimi Akeredolu (SAN) urged the court to dismiss the petition.
He also urged the court to discountenance several issues raised by the petitioner outside pre-hearing session.
He said that counsel to the respondents did not respond to the petitioner because the petitioner did not say anything worth being responded to.
He urged that all the evidences before the court as presented by the petitioner proved that Ajimobi is a true Nigerian.
Counsel to Independent National Electoral Commission (INEC) Ahmed Raji agreed to all the submissions made by Akeredolu, saying that having dual citizenship does not knock off one citizenship of his country of birth.
"So long as Ajimobi is a citizen of Nigeria by birth, he is qualified to contest election. If somebody like Dr. Ngozi Okonjo-Iweala who holds dual citizenship is called upon to be a minister, any dual citizen that has not relinquished his citizenship in Nigeria is qualified to contest an election," he said.
—Gbenro Adesina/Ibadan