A robbery suspect who claimed to be a University of Lagos graduate of Chemical Engineering and a member of Drama and Ministration at the Redeemed Christian Church of God, RCCG, Goshen Parish, Lekki, is currently in the custody of Special Anti-Robbery Squad, SARS, Ikeja, Lagos State, southwest Nigeria.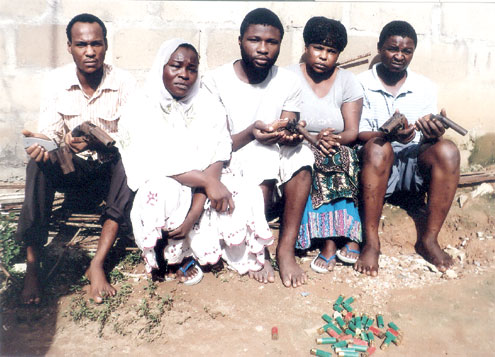 The suspect, Michael Ayomide Orutoye, 31, resides at 31, Mobil Road, Ajah.
He is a native of Ilaje in Ondo State. Until his arrest, he allegedly belonged to a 7-man robbery gang .
Other members of the gang are Bomah Ogoto (leader), Olasheu Salami a.k.a. Jenbete, Tunde Special, Bolaji and Babakekere. They allegedly terrorised residents of Ajah, Lekki and its environs.
P.M.NEWS investigation revealed that the gang allegedly went to the house of a businessman, Chuks Mbadugha, an importer of cosmetic products based in Lekki and at gun point collected from him N150,000, $6,000, 2 Backberry phones and also took away a Honda Accord saloon car marked LC 940 EKY, a Toyota SUV with registration number EM 931 EKY and other valuable items.
After the attack on Mbadugha's household, he reported the incident at Ogobo Divisional Headquarters.
In the course of police investigation, the Police recovered one of the stolen Blackberry phones from Afeez Ojupon at Ajah and he said he bought it from Tunde Special, a member of the gang.
Tunde Special was subsequently arrested and he promised taking the police detectives at Ajah Division to where he got the Blackberry but on the way he escaped.
When the complainant learnt of his escape, he forwarded a petition to the Lagos State Commissioner of Police, Mr. Yakubu Alkali and the case was assigned to Supol Ade Adetarami of Special Anti-Robbery Squad, SARS.
A few days later, Tunde Special went again with his gang to Abraham Adesanya Estate in Ajah to rob another victim.
The police engaged them in a gun battle and killed three members of the gang. Akeem Alao, a member of the gang,was arrested while others escaped.
The arrested suspect later identified the dead members as Tunde Special, Bolaji and Baba Kekere.
He also gave the names of those that escaped as Boma and Olesheu (Jenbete).
The confessional statement by Akeem Alao, led to the arrest of Olasheu at Oyingbo, by the officers in charge of Special Anti-Robbery Squad led by Supol Abba Kyari and Supol Ade Adetarami.
When P.M.NEWS spoke with Michael, who claimed to be a Chemical Engineering graduate of the University of Lagos, he said: "I read Chemical Engineering and I graduated in 2008. I was jailed in 2008 because of N2.5 million and drugs worth N1.7 million which were stolen by the driver assigned to me as a sales representative when I was working with Smithkline Beecham and I spent three months in jail.
"I lost my dad in 1992 so I was brought up by my step-father Mr. Emmanuel Egbe, an Assistant Commissioner of Police who is now retired.
"Boma, our gang leader, lured me into robbery because he knew I was good in driving when we met in Ikoyi Prisons. Our leader was a colleague of the son of a late AIG who went into robbery. The first robbery operation I went with them was the attack on a businessman called Chuks Mbadugha. We have a joint at Ajah where we normally meet. Olasheu (now dead) was in charge of guns and we normally keep the guns inside the bush. After we robbed Mbadugha and his girlfriend, we stole a Honda saloon car and an SUV with money (naira and dollars). I drove the Honda while Bolaji drove the SUV, but unfortunately the SUV got stuck on a bad road. So we abandoned it and entered the Honda car. Olasheu called the buyer at 2 a.m. to come and pick the stolen Honda car. I got a share of N180,000 cash.
"The second robbery was in a big mansion. We scaled the fence and met two mobile policemen sleeping and we disarmed them and collected their AK 47 rifles. We also took away a Benz and Jaguar. I drove the Benz C Class and Bolaji drove the Jaguar. When Olasheu called the buyer, he rejected the Jaguar and came for the Benz so we abandoned the Jaguar car somewhere. After selling the Benz car I was given N35,000 cash.
"The day we went to Abraham Adesanya Estate, policemen caught us unawares and as we tried to escape, they shot at us and apprehended Akeem Alao who gave them information about us.
"Olasheu is dead because he tried to escape when he led policemen to our leader's hideout in Ajah and on seeing the police, Boma, the leader opened fire. As Olasheu wanted to escape he was shot in the leg and on the way to the hospital, he died.
"We do not have juju but Olasheu had one juju tied to his waist. The other AK 47 is with Boma who was shot in the buttocks. My girlfriend was also arrested. She is two months pregnant for me."
Meanwhile, the Lagos State Special Anti-Robbery Squad, SAR, has arrested five suspects who specialised in car snatching across the border. The gang sells off the cars snatched in Lagos and its environs at Cotonou, Republic of Benin.
According to the leader of SARS, SP Abba Kyari, the suspects, Abiola Obe, 27, Olaitan Abioye, 31, Ugochukwu Obi, 17, Kemi Adesanya, 32, and Alhaji Anifowoshe, 38, were arrested along Idiroko border recently.
The SARS boss said when the suspects were flagged down by the SARS operatives, they refused to stop. But they were demobilised when his men shot the tyres of their car and got them arrested.
In his statement, Abiola, one of the suspects, said: "I was invited to come and drive a bus across the border because I am am involved in smuggling business. I'm a computer operator and I reside in Benin republic. I have been driving across the border for some years and many people know me as a smuggler. I was introduced to car snatching some years ago and my share after a successful operation is N40,000.
"Rasaq introduced me to the business. He took me to Alhaji, where he washed his car somewhere at Stadium in Cotonou. When I told Alhaji I know how to drive, he collected my phone number. He later called and introduced the business to me and since then, I have been working directly with him."
Another suspect, Abioye, said: "I was living at Alhaji Lasisi Street, Idi-oro, Mushin, when the police came to arrest me and took me to SARS .When we got there, they asked me if I knew Ejike. I told them I knew him but I don't know his whereabouts. They also asked me to mention the names of people in the gang. I mentioned Ejike and told them that the guns I'm using were given to me by him. They asked me if I can contact him but I said they can only get Ejike through Alhaja. whom I deliver the cars to. So, I took them to where Alhaja lives at Mile 2. I started robbery operation in January this year. I went with them to operate only twice. I have snatched four vehicles and I delivered two of the vehicles to Alhaja.
"The vehicles that are very easy for us to snatch are Toyota Camry and SUVs. I don't know where they sell the cars but my job is just to deliver the cars to Alhaja in Mushin and each time I succeed my share for the day is N300,000 per operation. I only go to Akala to smoke cannabis. I advise my friends to stop stealing."
Ugochukwu Obi, another suspect, denied being a member of the gang.
He said: " I was in Ejike's house washing his clothes while Ejike went to a joint where we smoke cannabis when the police came. Before he left, he told me to wait for him. After sometime I went to fetch water from the well in the compound and I saw a team of policemen but I ignored them. I fetched water and went into the house. A few minutes later, the policemen came inside the house with Alhaja. Alhaja told them that I'm Ejike's brother. She had seen me with Ejike in a hotel close to his house. Alhaja was in the hotel with Ejike when he invited me to join him that fateful day. I am not Ejike's brother. I wash clothes for him and he pays me. When the police asked me of Ejike's whereabouts I told them he went out on his motorbike. They searched his room and saw three guns with some live catridges in a portfolio placed on top of his wardrobe."
—Oluwole Adeboye & Dedeigbo Ayodeji