Nollywood comic actor, Baba Suwe, will remain in detention until the National Drug Law Enforcement Agency, NDLEA, is convinced he is innocent of drug allegations, the agency said this morning.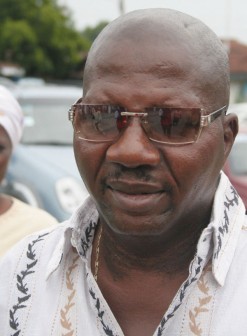 Speaking on Channels Television's Sunrise, the Director General of NDLEA, Mr. Femi Ajayi, explained that though the comedian has tested negative to drug ingestion twice since he was arrested on Wednesday 12 October, he remains a suspect until he tests negative at least three times.
"Baba Suwe has excreted only twice and there is a minimum number of excretions a suspect should make which is at least three times. The suspect must excrete at least three times and if he tests negative and we are convinced he is innocent, we release him," Ajayi said, adding that it is standard procedure.
He disclosed that the popular comedian whose real name is Babatunde Ayinla Nurudeen Olasunkanmi Omidina was taken to a clinic and assisted to excrete the first time. In six days, he said, the comedian has excreted only twice, adding that due process will be followed.
Ask if the scanner could have malfunctioned, Ajayi said it is a possibility but the chances are slim.
He added, "the scanner can only see some particle. It's not hundred percent accurate. It gives you an indication. We must test those particles after they are brought out of the body to be convinced. The waiting depends on the person; some persons take three days before they defecate, in that case, it is not our fault."
Baba Suwe was apprehended at the Murtala Muhammed International Airport in Lagos, southwest Nigeria, while on his way to Paris, France, where he was to attend a naming ceremony, according to NDLEA.
He was detained after particles were detected by the United States-donated scanner. He has been with the agency ever since.
Beyond Baba Suwe's drug saga, Ajayi, who replaced Lanre Ipinmisho as NDLEA DG in December last year, lamented that the anti-narcotics agency is winning some drug battles but not the drug war, adding that more Nigerians are consuming hard drugs while the agency has only about 5400 staff with no funds to train about 1900 of them.
"More Nigerians are consuming drugs. We grow a lot of cannabis sativa but NDLEA has not been able to destroy the drug farms faster than they are being grown. We don't even know all the locations. We don't even have enough man power to police legal borders not to talk of other illegal entries. NDLEA was asked to leave the sea port.
"We have been making recommendations to the government. We have not been able to get the kind of funds to purchase the needed equipment. Our capital budget this year at NDLEA is N84.5 million. That is why we have not been building anything.
"The state command we inherited, the roof is leaking, and there are no windows and so on. About three months ago, we had only 3500 staff and we have employed 1900 more people and we don't even have funds to train them."
Ajayi added that there is no provision for compensation even if a suspect is cleared after detention.
"When it comes to drug fight, those sentiments don't exist," he said.
The NDLEA airport commander, Mr. Hamza Umar, has said that there is reasonable ground for suspicion, adding that there have been cases when a suspect excreted hard drug at the fourth excretion.
—Simon Ateba