There was mass protest by transport workers in Benin City, the Edo State capital, southsouth Nigeria, today when they took to the streets to protest over who collects revenue for the Oredo Local Government area.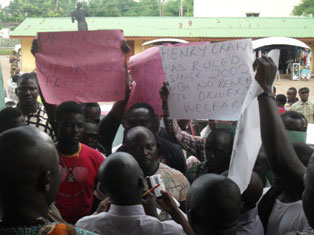 The main leader of the transport workers, popularly called Tony Kabaka, was alleged to have been collecting arbitrary revenue from commuter vehicle drivers without considering the welfare of other members of the group.
Kabaka is said to be the chairman of the Drivers Welfare Committee in the state and doubles as an adviser to Governor Adams Oshiomhole on drivers' union matters in the state.
During today's protest, commercial activities in the city were paralysed as the drivers deserted the popular Ring Road after Kabaka's supporters besieged the motor parks and demanded that the drivers pay them the revenue despite the ban on revenue collection in the state by any union by Governor Oshiomhole following the dispute.
The spokesman of the drivers' union, Mr. Monday Edosa Osaretin, this morning told P.M.NEWS that the Kabaka men came with guns and machetes and attacked them at the park for not paying up the revenue that the governor has banned.
According to Edosa, "Kabaka came and told us that the Oredo Local Government has ordered him to collect the banned revenue and that whether Oshiomhole banned the collection or not, he would collect the dues and when we refused his men started to attack us with machete and we all had to run for our lives. That is why we have decided to protest to the governor's office."
As at the time of this report the police have stormed the parks to protect commuters and other members of the public.
ASP Peter Ogboi, the State Police Command spokesman, could not respond to our call concerning the situattion this morning.
—Yomi Obaditan/ Benin City