Forty-eight hours after his second excretion which, like the first one, tested negative to drug ingestion, Nollywood comic actor, Baba Suwe, last night made a third excretion which also tested negative to drug peddling, but he will have to make more excretions to convince the National Drug Law Enforcement Agency, NDLEA, he is innocent, the agency said this morning.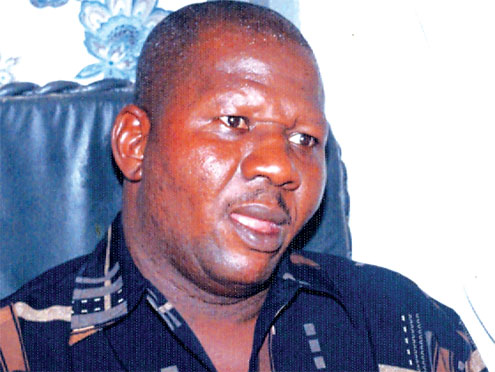 The NDLEA Head of Public Affairs, Mr. Mitchell Ofoyeju, told P.M.NEWS in a telephone interview early today that Baba Suwe whose real name is Babatunde Omidina remains under observation even after his third excretion.
He said: "I can confirm that Baba Suwe is still under observation. He excreted for the third time last night and no drug was found. But he remains under observation.
"It will not end at the third excretion because it depends on body composition. For some people it takes more time, more excretions. It really depends on the body of each individual."
The Director General of NDLEA, Mr. Femi Ajayi, said in a television interview yesterday that according to standard practice, a drug suspect must test negative at least three times to convince anti-narcotics agents he is innocent after particles are detected by the 2008 United States-donated scanning machine, known as Soter RS.
The Lagos airport Commander of the NDLEA, Mr. Hamza Umar, has said that there is enough ground for suspicion, adding that in previous arrests, some suspects had excreted the drug at the fourth excretion.
The alleged drug trafficking scandal, involving Baba Suwe, now resembles the longest tennis cracker played at the Wimbledon 2010 between Nicolas Mahut and John Isner.
The encounter lasted three days. Tennis fans around the globe held their breath on 22, 23, and 24 June 2010 until Isner defeated Mahut after 11 hours five minutes and 183 games.
For over six days now, since the popular comedian was arrested by NDLEA operatives at about 10 p.m. on Wednesday,12 October, on suspicions that he had concealed hard drugs in his stomach detected by the NDLEA scanning machine, Nigerians have been waiting to know the outcome of the drug saga.
The popular comedian was arrested at the Murtala Muhammed International Airport in Lagos, southwest Nigeria, while on his way to Paris, France, where he was to attend a naming ceremony of the child of an Air France staff. The Air France staff was arrested and released shortly after.
The scanning machine, known as Soter RS, was donated by the United States government in June 2008. It is said to be one of the most sophisticated x-ray body scanning machines available for drug detection.
In an event witnessed by P.M.NEWS in June 2008, the US Ambassador to Nigeria at the time, Ms. Robin Sanders, while dedicating the scanning machine said: "It gives me pleasure to dedicate another scanner, which is an important new tool in Nigeria's anti drug trafficking arsenal.
"It is a full body scanner that will enable NDLEA to perform a quick non-invasive search of suspected drug traffickers and to locate illegal drugs or other contraband, no matter how cleverly hidden they might be."
With the controversy over whether or not the particles detected by the Soter RS scanner were drugs or some other particles like food, the reliability of the US-donated scanner is being put to test.
Already, the continued detention of the comedian six days after he was arrested and after three excretions that have all tested negative to drug ingestion has fuelled sentiments among Baba Suwe's admirers and supporters.
Nollywood stars are said to be mobilising, using new technologies, for a protest at the NDLEA office.
The movie stars led by the former president of the Association of Nigeria Theatre Arts Practitioners, ANTP, Prince Jide Kosoko, have planned to go on nation-wide protest if Baba Suwe is not released on time.
According to a text message which emanated from Kosoko and titled 'Baba Suwe', he called on other stars to mobilise for a massive rally on behalf of the comedian.
"Baba Suwe is in NDLEA custody without anything implicating found on him. Now it's time to talk. They owe us explanation as we have to act now. Be prepared for a massive rally. Expect further information on this soon. Pass this to others," Kosoko said in the text message.
P.M.NEWS learned that ANTP members have been passing the text message to one another as they await further directive from the former ANTP president and other top members of the association.
It was learnt that the ANTP members through the text have been mobilising other members from Lagos and other parts of Nigeria in preparation for what is being described as mother of all rallies.
The arrest of Baba Suwe is generating a lot of interest in the media and social network sites such as Facebook and Twitter.
Thousands of people had shared P.M.NEWS stories on their facebook pages, hundreds of thousands have been discussing it and many are holding their breath to know who between Baba Suwe and the NDLEA will be vindicated.
Many are already calling the drug saga, a comedy of gargantuan errors; others say Nigerians must expect either an 'expensive shit' or a 'shameful shit'. For now, it is Baba Suwe 3 – NDLEA 0. Will the fourth excretion lead to anything? Only time will tell.
—Ayodele Lawal & Simon Ateba