The real life drama starring Nollywood comic actor, Baba Suwe, entered day seven today with the National Drug Law Enforcement Agency, NDLEA, saying the comedian will remain in detention for some time and actors warning he must not die in NDLEA cell.
The NDLEA Head of Public Affairs, Mr. Mitchell Ofoyeju, told P.M.NEWS early today that the comedian is still under observation.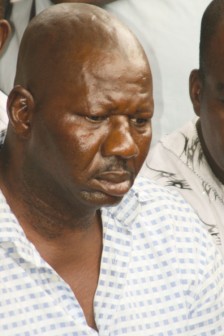 Being "under observation" is a security code which means the comedian will remain in detention for some time until he makes more excretions and the wastes tested for the drugs that have so far failed to come after three previous excretions.
"What I can say now is that he is still under observation," Ofoyeju said referring to the detained actor.
Asked if Baba Suwe had made another excretion, Ofoyeju said "I am not aware of any".
The NDLEA spokesperson said that the media will be briefed at the end of the investigation and no more on daily basis, insinuating that the case will now be handled in a discreet manner.
The ace comedian whose real name is Babatunde Omidina was apprehended at the Murtala Muhammed International Airport in Lagos, southwest Nigeria, on 12 October as he was about boarding an Air France flight to Paris, France, where he was billed to attend a naming ceremony.
He was detained after some strange particles were detected in his stomach by the United States-donated scanner known as Soter RS. He has denied the allegations and promised to sue the agency, a source who witnessed the arrest told P.M.NEWS.
The Director General of NDLEA, Mr. Femi Ajayi, said in a television interview on Monday that according to standard practice, a drug suspect must test negative at least three times to convince anti-narcotics agents he is innocent after particles are detected by the scanning machine.
The Lagos airport Commander of the NDLEA, Mr. Hamza Umar, said last week after the arrest that there was enough ground for suspecting the comedian, adding that in previous arrests, some suspects had excreted the drug at the fourth excretion.
For seven days now, since the popular comedian was arrested and detained by NDLEA operatives Nigerians have been waiting to know the outcome of the drug saga.
The arrest of Baba Suwe is generating a lot of interest in the Nigerian media and social network sites such as Facebook and Twitter.
Thousands of people had shared P.M.NEWS stories on Baba Suwe on their facebook pages, millions have been discussing it and many more are holding their breath to know who between Baba Suwe and the NDLEA will be vindicated.
Some are already calling the drug saga, a tragicomedy of gargantuan errors.
Meanwhile, Baba Suwe's colleague, Adewale Elesho, has warned that there would be problems in the country if the comedian dies in NDLEA cell.
Speaking with P.M.NEWS this morning, Elesho wondered why the comedian is still being detained after several excretions that all tested negative to drug ingestion.
He said that NDLEA owes the public an explanation "because I am suspecting that they might want to play a fast game and implicate the actor."
Elesho told P.M.NEWS that he is awaiting directives from former ANTP president, Jide Kosoko, to know the next line of action.
—Simon Ateba & Ayodele Lawal