The Action Congress of Nigeria in Benue State wants the general public to know that Governor Gabriel Torwua Suswam of Benue State is being propelled in his governance of the state by a satanic hatred for ACN, paranoia for ACN activism, which has become the obvious reasons for government action.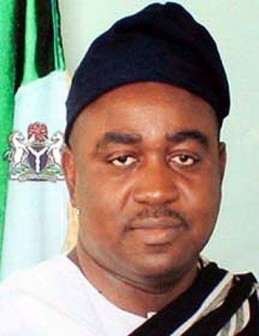 2. On the 17th October 2011; the State Universal Basic Education Board, Makurdi in a letter SUBEB/GEN/279/1 signed by one Ben T. K.
Andura for the Chairman, withdrew the letter of resumption of duty previously issued to one Mrs. Charity Ityough to assume duty as Senior Assistant Education Officer due to obvious reasons. The obvious reasons are nothing than the fact that the daughter of this civil servant is an ACN activist and this disqualifies her from resuming duty in Benue State.
3. Continuously, civil servants suspected of having sympathy for the ACN are being victimized by non-payment of salaries and unreasonably punitive transfers to destabilize them "for obvious reasons".
4. Traditional Rulers suspected of having sympathies for ACN like Ter Tarka; Chief Indyer Akume because of his blood relationship with Senator Akume is being victimized, arrested and detained "for obvious reasons".
5. Prof Steve Torkuma Ugbah had been arrested detained and arraigned in Chief Magistrate Court, Makurdi on trumped up charges of inciting violence and causing mischief by fire "for obvious reasons".
6. ACN supporters like Charles Ayede, Emmanuel Ajibo, Celestine Ahemba Agber and a host of others had been killed "for obvious reason". Now, attempts are been made to raze down Ugba town for the same obvious reasons.
7. Students and market women in Benue State held peaceful protest demanding to know the status of the legal battle for mandate recovery and expressing their no confidence in Torwua Suswam, they were arrested and detained for obvious reasons.
8. An Artist and Cartoonist who regularly captures the conduct and methods of Dr. Gabriel Suswam in his cartoons, was once kidnapped and then macheted and almost killed "for obvious reasons" at the second encounter.
9. The destiny of the people of Benue State is now being toyed with because they overwhelmingly rejected Governor Gabriel Suswam at the polls and have demonstrated undue courage in their determination to reclaim their stolen mandate.
10. No amount of intimidation or harassment by Governor Suswam will make the majority of the people of Benue accept him as the legitimate Governor of Benue. Forever, the unkind verdict of history will be that Suswam is an impostor and is unduly occupying Government House as a democratic or civilian coupist.
Whether they arrest, detain, maim, harass or kill all members of the ACN for obvious reasons; the fact which shall never change is that, Gabriel Suswam has forged his way to Government House and will harass and traumatize all those who know this truth and are not prepared to compromise "for obvious reasons".