Nigeria got the deserved recognition as one of the best hip hop nations when some of her music luminaries joined scores of international superstars that illuminated the 11th edition of the BET Hiphop Awards over the weekend.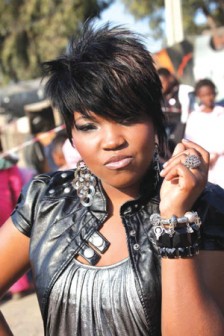 The Nigerian stars, led by DJ Jimmy Jatt, Modenine, Sasha and M.I, among others, caught worldwide attention with their amazing delivery when they appeared on the 2011 international broadcast of the awards held in Atlanta, United States.
The Nigerian female emcees, not only made history by being featured in the first ever all-female African Cypher, they were also given an international platform to showcase their talents. And this historical event created a sensational viral frenzy and a buzz in the entertainment industry globally with an incredible positive feedback from the public.
Apart from Sasha, the other super sexy female Nigerian MCs include Muna, Eva, Zee and Blaise.
They paved way for their male counterparts led by Modenine with DJ Jimmy Jatt behind the wheel of steel. The other male rappers in the cipher are MI, Ice Prince, Naeto C, OD, Sauce Kid and Vector. The most notable rapper missing that night was Dagrin. And the guys really held up his memory with some spotting T Shirts emblazoned with his picture and name.
Sasha, who has gone to established herself as one of Africa's leading female rappers, during her performance further gave it up for Dagrin. Apart from dropping most of her lines in Yoruba, bringing back the memory of the late rapper, she held up a black T Shirt on which a bold picture of him was emblazoned and flaunted it to millions of global audience in America, Europe, Asia and Africa.
Akin Akinleye, British-Nigerian music critic said in an email message to Showbiz Trends: "Today, I am proud of my Nigerian roots. I just finished watching BET Hip Hop Awards 2011. And our boys and girls made us proud. From Sasha, Blaise, Luna and Eva to MI, Naeto C, Modenine and Ice Prince. They are the Cypher."
—Funsho Arogundade