Nigeria policemen kill enough defenceless citizens in two months to get everyone worried
Nigeria has become one huge killing field of defenceless citizens. The killing machine is the Nigeria Police, who think it is no big deal shooting and killing the same people they are paid to protect. This absurd indulgence has existed for years without a serious attempt to bring it to an end. Every year, hundreds of citizens get killed by the police unlawfully. These killings usually go uninvestigated and unpunished.
The extra-judicial execution of Nigerians by the police has escalated in the last two months. And everyone is worried.
In September, three policemen stormed a funeral in Akoko community, Ndokwa West Local Government of Delta State, uninvited. Before they left the venue, they had killed three persons. According to the state police commissioner, Mamman Tsafe, one of the policemen was drunk and violated the conditions under which firearms could be used. "All the conditions were not followed. He pulled the trigger and in the process three men were killed. We have arrested them and they are facing orderly room trial. We will arraign them for murder," Tsafe disclosed to newsmen in Asaba, the Delta State capital.
In the same month, the mood of joy that pervaded a social function on Joseph Akpoko Street, Udi-side, Enugu was turned to gloom when men of the Special Anti-Robbery Squad, SARS, stormed the occasion and began shooting sporadically, killing one person and wounding two others. One of the victims, identified as Chineme Ede, 15, was allegedly killed instantly by the squad. Obumneme Nwedu, 5, and Larry Nwankwor, 30, sustained serious bullet wounds.
An eyewitness, Mr. Stephen Ede, said the incident happened at the peak of the naming of their caretaker's new born baby. He said: "When we heard gunshots, we all ran inside the house for safety; but looking behind, I saw my younger brother, Chineme Ede, lying helpless on the ground. I was then forced to turn back. Behind where I stood, I saw two persons – Mr. Larry Nwankwor, our caretaker on behalf of whom we gathered in celebration of the christening ceremony of his new baby and little Obumneme Nwedu – seriously wounded by bullets from men of the SARS," the witness said.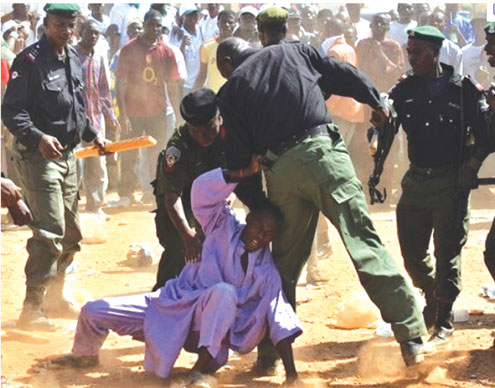 It was learnt that residents regrouped to ascertain what informed the action of the police officers. They were, however, reportedly dispersed by another round of shootings from the SARS men. Another witness, Mr. George Igbokwe alleged that the police had after the incident arrested four persons – three boys and a girl – to cover up the crime.
"What we saw here today is the apex of human rights abuse; it is inhuman and unjust killings. We are demanding from the police an explanation on the barbaric act we witnessed here. Is shooting of innocent people now part of their job? The worst of it all is that they arrested the relation of the deceased in order to justify the killing," Igbokwe said further.
Though many extra-judicial killings by the police took place in September, sometimes for reasons so absurd, Nigerians will not forget October 2011 in a hurry.
That month, social and economic activities were paralysed in Okitipupa, a coastal Ondo State community, following a violent protest over the killing of two brothers by the police. The two brothers were commercial motorcyclists, popularly known as okada riders. It was learnt that the first incident occurred at about 9.15 p.m. at Kajola Street junction on Broad Street when a policeman, who was on foot patrol, allegedly demanded a N20 bribe from an okada rider identified simply as Osare.
Osare, according to eyewitnesses, told the policeman that he could not afford to give out the money because he did not work on that day. Osare's refusal to oblige, it was gathered, provoked the policeman who shot the rider in the chest. The policeman, who was believed to be drunk, shot into the air to scare away people, while Osare was left drenched in blood. The sound of the gunshots was said to have attracted some youths in the town to the scene but the policeman immediately took to his heels. The youths took Osare to a nearby hospital where he was confirmed dead.
The deceased's younger brother, identified as Robinson, rushed to the police station in the early hours of Friday when he heard news of his brother's death. The source said that the young man entered the police station in anger and violently demanded to know why his brother was shot. On his arrival at the station, Robinson was said to have engaged the policemen on duty in a hot argument and threatened to report the matter to his cousin, who is a serving colonel in the Nigerian Army. The source said at that point, the youths stormed the police station with weapons, demanding for the killer of their friend. "The situation became so tense and one of the policemen, who was believed to have responded to a directive from a superior officer, shot sporadically to scare away the mob and in the process, Robinson was hit by a stray bullet. He died on the spot," the source narrated. Three other youths were said to have sustained varying degrees of injury that day.
It was learnt that the situation forced other policemen on duty to pull off their uniforms and run into the bush, while other officers, who reside in the police barracks, relocated their families to neighbouring towns for fear of reprisal attacks.
Investigations showed that Constable Ighodin Gbefamoghan killed the commercial motorcyclist, Christopher Okewon with an AK-47 rifle. He was posted to Oceanic Bank, Okitipupa as a security man at the time he committed the murder. The killer cop has been arraigned in court for murder.
One extra-judicial killing by the police that has sparked so much outrage involved Emmanuel Victor, 25, an indigene of Opubo Nkoro, in Opobo-Nkoro Local Government in Rivers State. He had left home for his church, Christ Embassy, off Sani Abacha Road, Yenagoa, the Bayelsa State capital, for the second service of Sunday 16 October 2011, with his mother. Victor, a Diploma graduate from the Federal College of Education, Kano, had a desire to study law so that he could fight for the rights of the oppressed, his distraught mother narrated.
He was shot several times at close range by three trigger-happy policemen for daring to challenge them for extorting money from commercial motorcycle riders at a checkpoint very close to the entrance to his church. The young man was shot several times at close range and his brains blown up in the presence of his mother, a Guidance and Counselling graduate of the University of Calabar.
However, the three policemen who have been arrested on the orders of the Bayelsa State Police Commissioner, Mr Hillary Okpara, claimed they saw Victor smoking Indian hemp and when accosted, he used scissors to attack them so they shot at him in self-defence. "I watched and I screamed: 'leave him, leave him, he is my son…He is coming back from the church. Can't you see his Bible? What has he done?' All my words fell on deaf ears. Suddenly, a fair-complexioned cop among them cocked his gun and opened fire at close range. He shot my son. The first shot was to his tummy. He was shot many times. Finally, my son fell… My son fell down and even while he was on the floor, defenceless, they blew up his brains. Immediately after that they hurried into their car and sped off," the deceased's mother said.
The killing of Victor has generated wide outcry. The Civil Liberties Organisation, CLO, Bayelsa State chapter and other concerned citizens have condemned the horrendous crime. The CLO, in a statement in Yenagoa by its secretary, Comrade Alagoa Morris, said the organisation would not let this one be swept under the carpet.
"Now, no matter what happened, even though police statement is saying the boy was smoking hemp and even tried to fight them when they challenged him, can a 25-year old man overpower all those police officers that chased him? Was it proper to shoot at an unarmed Nigerian? Has the police the right to pass judgment and also carry out the sentence? These are questions that the CLO and concerned Nigerians would like the police authorities to give answers to," Morris declared.
Dr John Idumage, a lecturer and human rights campaigner also of the CLO, said there were many other cases of extra-judicial killing in the state against the disbanded Operation Famau Tamgbe, OFT, "There was the case of a boy from Otuasega community of Bayelsa State, who was also detained at the OFT cells. ThankGod Michael was detained for alleged rape. The boy whose relations later went to secure his release from OFT revealed that at about 10:00 p.m. on 18 September 2011, he was led to the torture chamber and tied upside down, suspended from the ceiling. He was beaten and asked to confess the crime of rape, which he repeatedly said he knew nothing about. ThankGod continued to plead his innocence and, while still hanging upside down his captors left him and went out. Unfortunately, by the time his relations returned to check on ThankGod, he was no longer alive," Idumage disclosed.
Olusola Amoren, the public relations officer of the force, confirmed to Nigeria Police Watch that the three men have been given an orderly room trial in Bayelsa state. "The result of the orderly room trial will soon be out and then we will decide if they are guilty or not," Amoren said. He, however, could not give the names of the suspects but said further actions on the case will depend on whether the officers are guilty of the murder or not. If they are guilty, they will be dismissed and charged with murder, he promised.
In Lagos State, it was the tragic turn of a bus passenger who was stabbed to death by a mobile policeman following an argument over N50 bus fare at Iyana-Ipaja in Alimosho area at about 10 a.m., on Saturday 15 October 2011.
In Orin-Ekiti in Ekiti State, what could have turned out to be a bountiful harvest for the Abe family became a source of sorrow, as they lost one of their children to police bullets on Thursday 20 October 2011. As is their usual practice during the harvest season, the family members arrived their farm around 3:30 a.m. to harvest maize which they had started harvesting since Monday 17 October. On that fateful day, the family, comprising of Tayo, 28, a 2008 OND Banking and Finance graduate of the College of Technology, Esa-Oke, Osun State; Adeniyi, 26, an accounting graduate of Rufus Giwa Polytechnic, Owo; Michael, 23, a 300-level student of Mining Engineering, Federal University of Technology and Mary, 18, who just completed her secondary education and seeking admission to a higher institution of learning, all of the same parents; Kemi, a 200-level student of Primary Education at College of Education, Ila-Orangun (Niyi's girl friend); and Gbenga and Ayoola Ajayi, their family friends, were busy harvesting when suddenly, around 4.30 a.m., they heard sporadic gunshots right behind them. Tayo was fatally wounded, while Kemi and Adeniyi were hit in their arms. In the confusion, three of them ran for their dear lives into the bush. Realising that the gunshots were from the police, Kemi surrendered by raising up her arms as ordered by the police and at the point that the police were whisking Mary and Tayo's lifeless body away, Gbenga came out of hiding and voluntarily went along with them to the police station at Ido-Ekiti where they were detained. The police afterward took Kemi to the Federal Medical Centre, FMC, Ido-Ekiti for treatment and deposited Tayo's body in the morgue of the hospital.
Kemi on her sick bed said: "The police shot sporadically and instantly, Tayo fell and died while the bullet hit me in my arm. Adeniyi took to his heels with bullet wounds while I surrendered. While calling on those in hiding to come out, one of the policemen used his leg to push Tayo, saying 'get up, get up' and he later discovered she was dead. As they were about taking me, Mary and the corpse away, Gbenga came out and volunteered to go with us. The three of us were taken to the station in a police Toyota Hilux van."
Gbenga told this magazine that the policemen threatened to kill him, stressing that had they not exhausted their bullets, he would also have been shot dead. "They issued all sorts of threats as they were taking us away," he said. Mary said they took them to the station at exactly 4:45 a.m. where they reported to their colleagues at the counter that they were thieves arrested in someone's farm stealing maize, "but we debunked the allegation, saying that it is our farm."
In his detailed account, Adeniyi stated that he took all of them to the family's three-acre farmland in Orin-Ekiti on his motorcycle in batches as he had to carry them in twos. He noted that they got to the farm very early so that they could finish harvesting on time and get to the market before 7 a.m. to sell their maize. They wanted to be among the first set of people to sell and make good profit, as the price of maize always goes down once other sellers have flooded the market.
He said: "I parked my motorcycle on the main road as we were harvesting. Around 4 a.m., we started hearing gunshots being fired indiscriminately without seeing anybody. I called a brother, Ojo Ajiboye to help me tell my father. But 10 minutes after, when I didn't hear from home, I called him again and he didn't pick his call. The brother later sent my number to a family friend, Dayo Olajide, who called to tell me that he was also in his farm very close to us and that he had to go into hiding when he heard gunshots. Before my father's arrival, the police had gone away with my Jencheng motorcycle, my sibling and fiancée. Knowing that they had gone, my brother and I came out when we saw our father and we all went to the station to get a policeman to accompany us to the hospital so that we could receive treatment. Policemen from the station refused to accompany us, but a cop from the local government came around and accompanied us to the hospital and they immediately commenced treatment on us."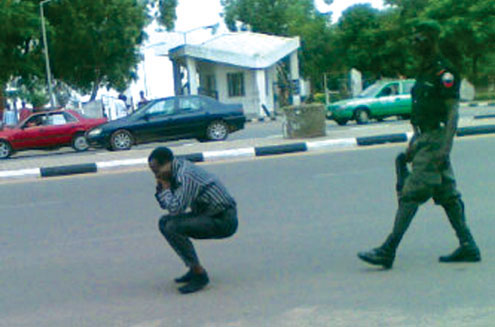 Adeniyi disclosed that the police denied detaining his sister and Gbenga until they shouted from the cell saying, "brother Niyi, we are here."
Father of the victims, Felix, 70, a retired primary school teacher, noted that life has been very unkind to him. According to him, as a result of the joblessness of his children, he suggested farming as a way out, which they all embraced. Because they did not have money to buy a piece of land for farming, they applied and got three acres from the state government, for which his wife paid the stipend demanded by the government. He lamented the callousness of the Nigeria Police, stressing that while police in other countries protect lives, Nigeria's policemen kill, extort and steal.
Asking for justice, he pointed out: "If the police had done their job well and gone with the mind of arresting those they think were robbers, they would have arrested them and taken them to the station and when they get there, they would have found out that they were not robbers and the situation would have been different." He called for the prosecution of the policemen involved.
The Ekiti State Commissioner of Police, Mr. Olayinka Balogun told the magazine that the saga was sequel to a distress call the police received that some thieves were stealing from a farm, resulting in his men mobilising to the farm settlement where it was alleged that thieves were operating. He said it was as a result of the alleged thieves battling to disarm a policeman that the loaded gun went off, killing Tayo and injuring others. He was, however, quick to add that the policeman who fired the shots has been arrested and detained at the police headquarters in Ado-Ekiti pending the conclusion of investigation on the matter. He promised that if the policeman that shot the victims is found guilty of misusing firearms, he would be accordingly dealt with and prosecuted in the court of law.
But Michael, one of the victims, debunked the story of the police boss, saying the policeman sprayed them with bullets and stopped shooting when he exhausted his bullets. "When they got to the farm, they did not talk to us, they just opened fire. I was not hit because I was a bit far from the scene. It was after finishing their bullets that they were calling us to come out but I didn't answer them because I thought they were robbers. We didn't try to disarm them as they claimed. A bullet killed my sister, another hit my brother and yet another hit his fiancée," he explained.
In Ibadan, on Monday 26 October, a mobile policeman shot a driver identified as Aminu Mudashiru at Omi-Adio for allegedly refusing to give him N20 bribe usually collected from commercial drivers. According to an eyewitness account, Mudashiru, the driver of a truck with registration number SG 137 BDJ was flagged down by the policeman at the road block, requesting the driver to pay the usual N20 bribe before he could be allowed to go.
The driver was said to have explained to the policeman that he had paid them once on the same route, but his explanation was rejected by the policeman. "While the driver was about parking his bus off the expressway to avoid obstructing free flow of traffic, the policeman who felt the driver was about to speed off opened fire, shooting the driver in the hand. The bullet pierced through the windscreen."
Irked by the development, youths in the community went after the policemen at the road block, who immediately took to their heels.
On 27 October, police in Eket Division of the Akwa Ibom State Police Command shot and killed seven kidnap suspects. The police claimed the men were killed in routine operations against kidnappers. But not many believe them. In fact, sources told TheNEWS the men were assembled from different locations and executed in Eket Police Division. The police have simply turned themselves to investigators, judges and implementers of judgments, a critic regretted, arguing that the men should have been handed over for prosecution and not killed and their copses callously exhibited.
Okechukwu Nwanguma, Coordinator of Network on Police Reforms in Nigeria, however, said it is not enough to make police officers who commit egregious abuses such as murder to simply go through orderly room trial and then get dismissed. "They must be tried for murder," he demanded. ''Before the Yenagoa three, other police officers have been arrested, dismissed and handed over to civil authorities for trial but none has ever been reported to have been concluded. "Failure by police authorities to ensure accountability for past killings and abuses makes it possible for police officers to treat human life with levity," Nwanguma added.
Analysts believe that extra-judicial killings are systemic in the force and would hardly be curbed considering the depth of corruption in the force and government's unwillingness to reform the force. "It seems to me that the culture of impunity which pervades and rules police conduct and performance is responsible for this type of gruesome and senseless killing and other abuses," Nwanguma said.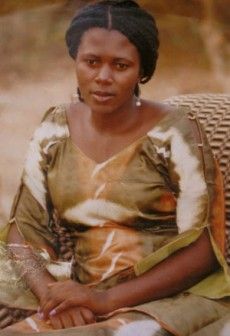 The police often exploit people's anger against criminals to justify their killings. Indeed, Police Force Order 237 permits officers to shoot suspects and detainees who try to escape. This encourages the police to get away with murder. Sometimes people are victims of enforced disappearance, with the police telling their families that they were transferred to another station or released on bail without documentation to prove it. Painfully, policemen suspected of extra-judicial killings are usually transferred to other states. They are hardly prosecuted.
Retired colonel, Gabriel Ajayi opined that the police should have strict rules on use of firearms. "Do they have annual range classification on the weapons they carry? Do they have retraining for improved proficiency? Are they asked to account for used ammunition like other forces? If there are no rules of engagement, they will be doing what they like. The police are to keep people alive, not to kill them. Why are the police killing people in this way in peace time?" he wondered.
Ajayi queried why the police carry war department weapons (assault rifles) when their mates abroad carry only pistols. He said that because policemen did not get punished for previous killings, like the killing of Col. Rindam, the Apo 6 and many others, they do not see anything wrong in wasting lives.
He may not be far from the truth. A senior journalist recalled an encounter on the Lagos/Ibadan expressway with mobile policeman who was angry that a taxi driver refused to give him N50: "He pointed his gun at us and screamed: 'I will waste you. Your family members will go to court but their efforts will come to nothing.' Invariably, one of the passengers gave him some money. But he thoroughly beat up the taxi driver."
Ajayi would like to see the police reformed and the rules tighter about the use of weapons. "In the army you can be court-martialled if you cannot explain how you used the bullets given to you. I know for a fact that soldiers used to buy expended ammunition from the police to stay out of trouble," he informed.
Nwanguma argued that the process through which people are recruited into the police, ensures that there are more unstable men and women in the police than the number of those sane and emotionally stable. Apart from that they are also fond of drinking while on duty and bearing assault weapons. He is concerned that these issues must be addressed as the first step to checking the violent streak of Nigerian policemen. Will government do that before things degenerate?
visit www.thenewsafrica.com for more stories
–Babajide Kolade-Otitoju, Additional reports by: Oluokun Ayorinde/Abuja, Gbenro Adesina/Ado Ekiti, Okafor Ofiebor/Port-Harcourt and Ayodeji Dedeigbo.

Load more