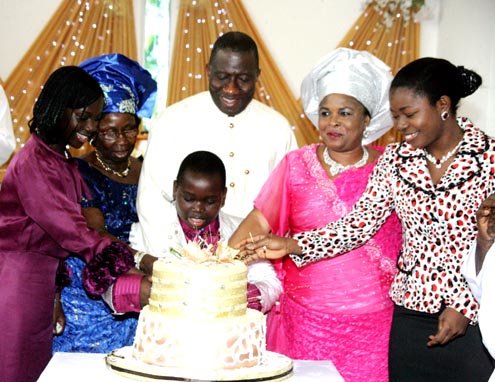 President Goodluck Ebele Jonathan has expressed thanks to God for keeping him alive.
President Jonathan was speaking at the State House Chapel, after cutting a cake to celebrate his birthday, Sunday.
"I thank God for keeping me alive to discharge the responsibilities of my office," he stated, adding that, "when I decided to contest for the position of Deputy Governor of Bayelsa State, I prepared my mind for any eventuality, and God has been faithful to me."
The President said most national issues were politicised, perhaps because Nigerian politicians can only succeed if they bring down the occupant of the office they want to occupy, adding that those who deliberately politicise issues are aware of the right thing.
Giving the example of the National Honours presented last week, he said the GCON was awarded to Alhaji Aliko Dangote because he is the highest private sector employer of labour in the country, adding that the claim that the honour was previously reserved only for Vice Presidents was erroneous.
"Before Aliko, over 75 distinguished Nigerians received the GCON," while Chief Obafemi Awolowo received the GCFR, though he was never President of Nigeria, he added.
President Jonathan said criticism and opposition were normal, adding that every leader who has made significant contributions to his people has faced criticism and opposition, and called on Nigerians to continue to pray for the nation.
Earlier, the First Lady, Dame Patience Jonathan had read the first lesson, while Navy Capt. Olu Bolade, Minister of Police Affairs read the second lesson.
The Chaplain, Venerable Obioma Onwuzurumba dwelt on perseverance in his sermon.
By Ayorinde Oluokun