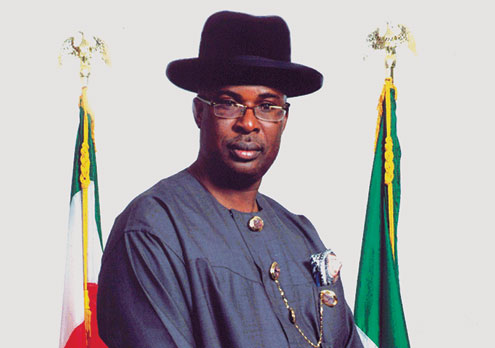 Moves by embattled Bayelsa State Governor, Timipre Sylva, to truncate the Peoples Democratic Party's candidate selection process through the court suffered a set back as a Federal High Court siting in Abuja on Tuesday adjourned his case indefinitely.
Sylva had dragged the party and the Independent National Election Commission, INEC, before the court to challenge the decision of the party to go ahead with its gubernatorial primary election in the state after his disqualification.
At today's proceedings, counsel to Sylva, Prince Lateef Fagbemi, a Senior Advocate of Nigeria, told the court that all counsel in the matter have agreed to go before the Court of Appeal to argue the case since the PDP has filed an appeal against the ruling of the court.
Justice Kolawole had warned the ruling party of the consequence of disobeying his order concerning the party primary in the state.
The judge had ordered the party to come before it within 72 hours to come and course why he should not grant the order the governor asked for. Sylva had asked the court for an order to stop the party primary.
Instead of going before the court as ordered, PDP decided to lodge an appeal at the appellate court. All the counsel confirmed the submission of Prince Fagbemi.
According to the senior advocate, "I was served with record of proceedings containing some processes. They also filed a motion for stay of proceeding. The path of the law and honour is that this matter is before the court of appeal and the motion for stay of proceeding is pending, the battle ground shifts to the court of appeal.
Fagbemi however frowned at the manner which the party is responding to the matter. "The speed with which the 2nd defendant (PDP) traveled to the court of appeal in the instant proceeding is worrisome. We urge the court to suspend the case in order to abide by the law".
Other counsel in the case appreciated the position of Fagbemi and added that they never denied that the processes in the case were not served. Counsel to PDP, Chief Olusola Oke said, "The position of the law as stated is well heard. We will go on with the same speed required of the case at the Court of Appeal".
After their submissions, Justice Kolawole stayed proceedings before his court and adjourned the case indefinitely.
According to the judge, "In view of the information supplied by Prince Fagbemi, the court cannot go into the merit of the order made by the court where the defendants were directed to show course why the order should not be granted. Once a case is pending before a court and an appeal has been entered, the higher court has more power to hear all the interlocutory applications as if it was the court of first instance. I have decided to adjourn this case sine die and I am sure the Appeal Court will do justice to this case"
— Nnamdi Felix /Abuja