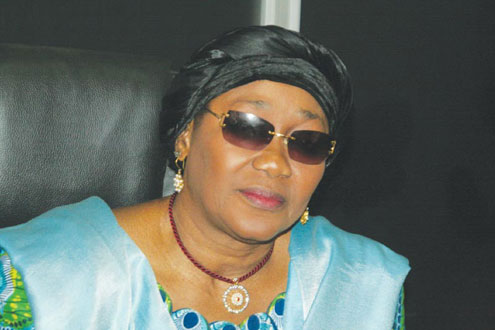 The big axe of President Goodluck Jonathan this morning fell on Mrs. Farida Waziri, boss of Nigeria's leading anti corruption agency, the Economic and Financial Crimes Commission. The sack of the controversial EFCC boss was announced in a terse statement signed by presidential spokesperson, Reuben Abati, this morning. Waziri has been directed to hand over with immediate effect to Ibrahim Lamorde, EFCC Director of Operations.
Ironically, Waziri had also taken over from Lamorde,  when she was appointed. Lamorde  was then holding forte as the acting chairman of the anti graft agency, following the controversial order by Mike Okiro, the former Inspector General of Police that Nuhu Ribadu, the then substantive boss of the Commission should proceed on a course at National Institute of Policy and Strategic Studies, NIPS, Kuru, Jos.
The statement from the Presidency today read: "President Goodluck Jonathan has approved the appointment of Mr. Ibrahim Lamorde as the Acting Chairman, Chief Executive of the Economic and Financial Crimes Commission, EFCC. The appointment takes immediate effect and effectively relieves Mrs. Farida Waziri of her position as EFCC Chairman".
The reason for her sack was however not indicated in the statement. Waziri, 65 years old,  celebrated her third year in office in May and it is believed that her tenure is due for renewal next year.
Of recent, Waziri has been busy arresting former state chief executives and arraigning them in court on charges of embezzlement and misappropriation of funds belonging to their states during their tenure. Her efforts have however been greeted by cynicism as many believed that she was putting up a media show to stave off trenchant criticisms of   inaction on the part of the agency since she became the Chairman.
This is more so, since the cases of over 20 former Governors arraigned in court before the latest arrests are not anywhere near being  completed. Critics have accused the Waziri led EFCC of failing to do proper investigations before arresting and arraigning suspects in court.
But the former EFCC boss has always defended her record, claiming that rather than EFCC, it is the courts that have been responsible for the delay in the prosecution of corrupt cases.
Waziri, a former police office has also of recent been embroiled in controversies on whether she was an Assistant Inspector General of Police, AIG as she has always claimed, or just a Commissioner of Police when she retired from the Force.
She has also been at loggerheads for the past one year with Mohammed Adoke, the Minister of Justice and Attorney General of the Federation over powers to initiate and prosecute suspects.
Adoke had accused the Waziri led EFCC of lacking capacity for thorough investigations when the questions of his bid to control the anti graft agency came up during his screening for the ministerial post about four months ago.
Recently, the House of Representatives has initiated moves to amend the EFCC Act to ensure that only retired Justices of the Supreme Court are appointed as the helmsmen of the anti graft agency, a move seen as a way of ensuring that Farida is not reappointed.
Farida's appointment as EFCC Chairman by late President Umaru Yar'Adua on 18, May, 2008 was itself mired in controversies. Her appointment was said to have been influenced by some former Governors, notably ex Governor James Ibori of Delta State who was then being probed by Mallam Nuhu Ribadu, her predecessor in office.
Ibori apart from facing accusations of looting his state, was accused of bribing Ribadu with $15million in cash. The money was kept in the vault of the CBN by Malam Ribadu, to be used as exhibit at Ibori's trial.
The Nigerian public believed at that time that Ribadu's problems at the agency was triggered by his attempt to try Ibori, the main financial sponsor of Yar'Adua's election in 2007.
Mrs. Waziri, on her appointment denied she was representing the cabal of governors that the EFCC under Ribadu was probing.
Waziri has always  also defended her record in office claiming that she has recorded a number of high profile convictions, especially  that of the loquacious former Deputy National Chairman of the ruling Peoples Democratic Party, PDP, Chief Olabode George who was jailed alongside five others for their role in a N100billion contract splitting scam in the Nigerian Ports Authority, NPA. She also said she has helped Nigerians and foreigners recover billions of naira from fraudsters.
— Oluokun Ayorinde/Abuja