Dim Chukwuemeka Odimegwu Ojukwu-Eze Igbo Gburugburu passed on early hours today at the age of 78. He was flown to London on December 23 last year for medical check up from the Akanu Ibiam International Airport wing Emene-Enugu after a protracted illness at the University of Nigeria Teaching Hospital Ituku-Ozalla Enugu.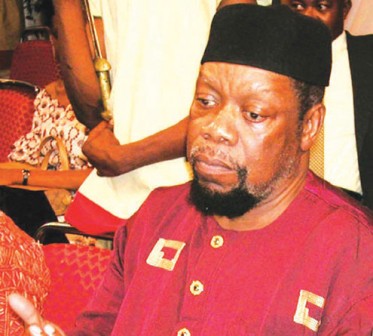 Accordingly, Governor Peter Obi of Anambra state Ojukwu's home state announced the traditional 'Ikoro Drum ' exit meant for great souls and warriors in Igboland titled, 'Our Father is Gone. '' Amuma na Egbeigwe edelu juuuu; Udo eji akpu Agu agbabie; Odenigbo Ngwo anabago; Ikemba Nnewi a gaba goo; Dikedioranmma nweru ka osi noru kitaa, Ezeigbo Gburugburu , enwooooo! Obu inaba ka anyi mezie gini? Onye ga na-ekwuru anyi? Onye ga abamba ka Agu ma oburu na ana emegbu anyi? Enwoooooooo! Dim Chukwuemeka Odumegwu-Ojukwu, enwoooooo! ''
Continuing, ''while alive Ezeigbo Gburugburu was such a subject of history that it makes little sense to start contemplating how history will remember him.He is worthy of Ceaser's own summary of his victory in Pontus (former Asia Minor), Veni, vedi, vici, (I came, I saw, I conquered).
Ojukwu came, saw and conquered, leaving for us vital lessons in patriotism and nationalism.With his death, part of every Igbo man has also died. We shall continue to remember him in our prayers '', said Governor Obi. With Ojukwu's death, the entire Igbo race, at home and in the Diaspora as well as Nigerians have lost a treasure. It could be recalled that General Chukwuemeka Odumegwu Ojukwu was Head of State defunct Republic of Biafra from May 30, 1967 to January 15 1970when the then Eastern Region seceded from Nigeria after the famous Aburi-Ghana Accord with Col. Yakubu Gowon that signaled the 30-month Nigeria-Biafra civil war.
Among the early tributes was the one from Nigeria's former vice-president, Atiku Abubakar.
He described Ojukwu's death as another colossal loss to Nigeria at a time of strenuous efforts for unity and reconciliation.
Abubakar recalled that Ojukwu's role as a key actor in Nigeria's political development cannot be easily forgotten. He said Ojukwu was a tremendously respected and influential politician whose endorsement was frequently needed by others to build their political careers.
According to Atiku, history had cast the late Ojukwu into a role and he played that part to the best of his abilities. The former Vice President recalled that the late Ikemba of Nnewi was always consulted by successive governments in Nigeria in their efforts to consolidate unity, harmony and cohesion in the country. "Because of his tremendous influence on the hearts and minds of the people, the late Ojukwu was an icon in every sense of the word. Even if you disagreed with the Ikemba, you cannot ignore his father-figure stature and colossal influence," the Turakin Adamawa added.
By Jude Orji/Enugu