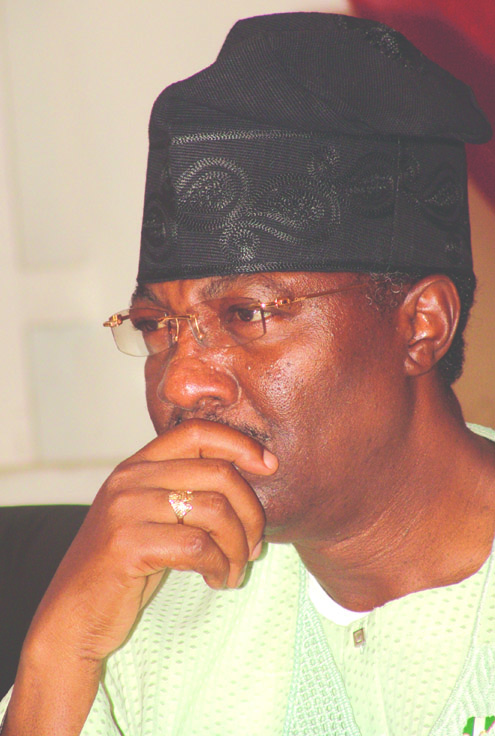 An Ogun State High Court sitting at Isabo, Abeokuta this morning adjourned once again the commencement of trial of the former governor of the state, Otunba Gbenga Daniel after the Economic and Financial Crimes Commission, EFCC, filed 27 fresh charges against him to bring all the charges to 43.
The EFCC on 12 October, 2011 arraigned Daniel on a 16-count charge of stealing, failure to declare asset and illegal deduction of local government fund.
During the last sitting, the EFCC prosecutor, Barrister Rotimi Jacobs pleaded with the court to allow the anti-graft agency to file more charges against the former governor.
At the resumed hearing of the matter this morning, counsel to Daniel, Professor Taiwo Osipitan, SAN, told the court that he received the fresh charges this morning.  He pleaded for time to enable him file a defence.
Osipitan said, "If it can take the EFCC a month to file the fresh charges, I think the court will be magnanimous enough to give us a month to study the new charges and file our defence. And I am not sure EFCC is done with their charges. They have made the second and third amendment in the charges.
"We learnt that last Friday, they were still arresting some people in connection with the charges. It is likely they arrest more people. It's like the EFCC is not ready for the commencement of the trial."
Responding, Barrister Jacobs for EFCC disagreed with Osipitan that the agency was not ready for the trial.
He said, "the statement that we are not ready does not exist at all. I agree with the defence counsel on the need for adjournment. But it is not as if we are not ready, we  just want to give the accused person a fair hearing. His counsel will have enough time to prepare for the defence."
The EFCC counsel also pleaded that the fresh charges be read to the hearing of Daniel and for him to make a plea.
The presiding judge, Justice Olanrewaju Mabekoje objected to this, saying that if the fresh charges were read to Daniel and his plea taken, there will be no need for adjournment. But hearing in the case would commence immediately.
The court adjourned till 19 and 20 January, 2012 for the commencement of the trial.
— Abiodun Onafuye/Abeokuta