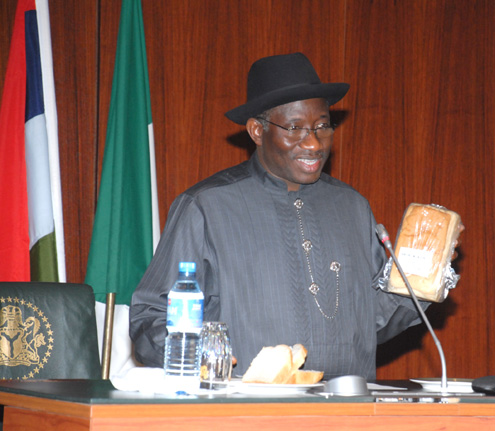 With loaves of bread made from 40 per cent cassava flour being shared among his ministers in the cozy Aso Rock Council Chambers, President Goodluck Jonathan on Wednesday seized the moment to campaign for patronage of locally made goods by Nigerians.
The President who said he has been eating the bread which was partly made from cassava flour since it was it was first presented to him by Dr. Akinwunmi Adesina, the Minister of Agriculture a week ago.
The President who said he thought it is necessary to formally present the bread to Nigerians added that he restrict the bread he will eat until his exit from the State House to only those partly made from cassava flour.
The President had after shared out pieces of the bread to the Vice President and other members of the Council also opened theirs and ate. "I believe with this, so many of the people who produce bread will start to use different per cent ages of cassava flour, the President said on a hopeful note.
He added that he will ask the Minister of Finance and Coordinating Minister of the Economic Team, Dr. Ngozi Okonjo-Iweala, Minister of National Planning, Shamsudeen Usman, Minister of Trade and Investment, Dr. Olusegun Aganga, Minister of Agriculture Dr. Akinwunmi Adesina and the Chief Economic Adviser to the President, Professor Nwanze Okidigbe to meet and come up with policies that that will serve as incentives to encourage manufacturers to include cassava in their products and other policies that will serve as a disincentive not to do so. Jonathan also presented a snack made out of Cassava and beans.
The President noted that the snack would be good for school feeding since it has all the components of balanced diet. The President then noted that there should be more research into how to make use of local products to meet the needs of Nigerians noting that preference for foreign goods is damaging to the Nigerian economy.
Citing the experience of China, President Jonathan said Nigeria can only develop if such local innovations are encouraged: "For us as a nation to move forward we must also tame our exotic taste, we must tame our exotic taste. Some of the things we bring from outside is not even as good as what we even have within our country".
The Minister of Agriculture noted that Nigeria will save N656 billion annually, create more jobs with improvements in economic fortunes of farmers if cassava is substituted for wheat currently being imported to produce bread.  He noted that Nigeria was the highest producer of cassava in the world with 34 million tons per annum but regretted that that she adds zero value to product locally.
The idea of bread produced partly or wholly from cassava is not original to the Jonathan administration. Former President Olusegun Obasanjo had also in his last years in office said he will ensure that Nigerian flour millers include cassava in their product.
Based on this promise, many Nigerians had gone on to invest in cassava farming. The former President had with similar fanfare presented bread made from cassava in the presidential villa. But the promise was not followed through after the exit of the Obasanjo government in 2007.
The flour millers especially ensure that the succeeding government of late President Umaru Yardua did not implement the policy with claims that it will be difficult to retrofit their machines to start using cassava among other reasons.
This led to cassava glut in the Nigerian market as many of the farmers find it difficult disposing off their produce.