No fewer than seven motor spare parts traders were killed and several others severely injured in Kaduna, Kaduna State, northwest Nigeria today during an early morning bomb blast in the city.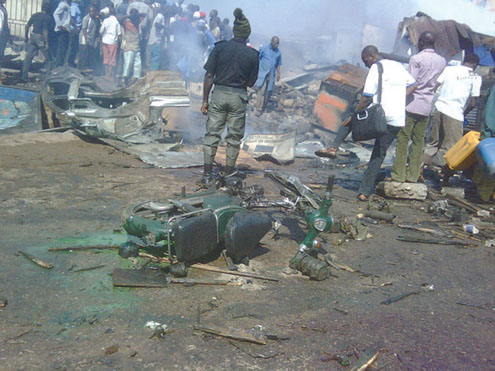 The bomb blast occurred around 9 a.m., P.M.NEWS gathered.
One of the witnesses who escaped death by the whiskers, Sunday Anabuogu, told P.M.NEWS that he was with his brother in the spare parts shop along Katsina Road, by Ori Apata when he saw two men on a motorcycle threw a bag into one of the spare parts shops. "I saw two young men on a motorcycle and before you know it, they had thrown a bag into a shop. The next thing I saw was an explosion. The house collapsed on the occupants."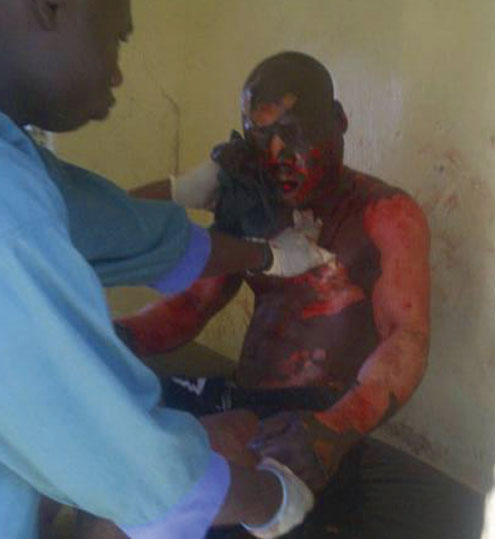 According to Anabuogu, one of the suspected bombers died instantly while the second one who was unconscious was taken to a nearby hospital.
When P.M.NEWS visited the scene, 10 shops were affected and property worth millions of naira destroyed.
As at the time of filing this report, men of the Kaduna State Emergency Agency, soldiers, police and the Federal Road Safety Corps have moved to the area and cordoned the scene of the bomb blast to put out the fire.
The impact of the bomb blast was enormous such that the head of one of the victims was severed and flung about 100 metres away from the scene. Shattered properties also littered the scene of the blast. Officials of FRSC, police and other security outfits at the scene of the blast declined to confirm whether the blast was caused by bomb or not.
According to them, investigations have commenced on the cause of the explosion.
But the motor parts dealers who witnessed the blast said they suspected it was a bomb blast. They also attributed it to Boko Haram members because of the manner the two bombers who operated on a bike carried out their assignment.
Meanwhile, fire fighters were still at the scene of the explosion, battling to put out the fire as at the time of filing this report.
— Femi Adi/Kaduna