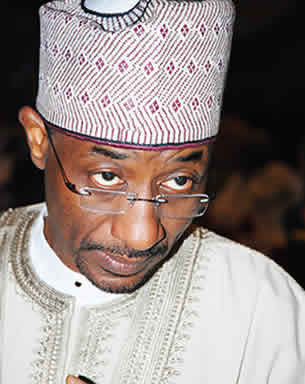 As the Central Bank of Nigeria (CBN)'s cashless policy takes-of next month, the apex bank has assured customers across the country of the safety of their money.
CBN Governor, Sanusi Lamido Sanusi gave this assurance at the Lagos Consumer Forum organised by the Consumers Advocacy Forum of Nigeria (CAFON).
The CBN boss gave the assurance in response to questions asked by participants at the forum who demanded to know how secure their money will be, in the face of fraud and hacking.
The CBN chief, who was represented by a Senior Management Staff, Mr. Chidi Umeano, said the anxieties being expressed by some consumers over the proposed cashless banking policy, are unfounded as the policy is a right step in the right direction.
President, Consumers Advocacy Forum of Nigeria (CAFON), Ms Sola Salako, particularly urged the CBN to clarify areas where there could be problems that would affect the take-off of the policy.
She listed concerns such as ATM fraud, illiteracy, poor power supply and lack of awareness of the programe as some of the problems
Responding to the numerous questions, Chidi Umeano explained that the policy will, among other things, help to reduce the rate of robbery, make business transaction easier and bring transparency to business transaction."
He stated that the apex bank was fully prepared to effectively start the operation of the cashless economy policy by next year.
He debunked the claim that illiteracy would mar the effectiveness of the policy, noting that the body was set to use the internet and mobile banking system.
According to him, many Nigerians are used to the mobile system so he saw no difficulty in implementing the policy using the mobile system.
Umeano further stated that the policy will start in January in Lagos only, while full operation nationwide will take off by June next year. He said the choice of Lagos as take-off point was as a result of the economic prospects of the state.
He added that sensitisation campaign was ongoing in the informal sector of the economy to keep the market men and women abreast of the policy prior to its take off.
According to him the system would allow the use of cash, but would be minimal as no individual would be allowed to withdraw cash above N150, 000 while corporate individuals would not withdraw more than N1 million. He said any amount above the stipulated amount would attract penal charges.
He added that consumers have the option of either using the internet or mobile banking to transact their business.
— Henry Ojelu