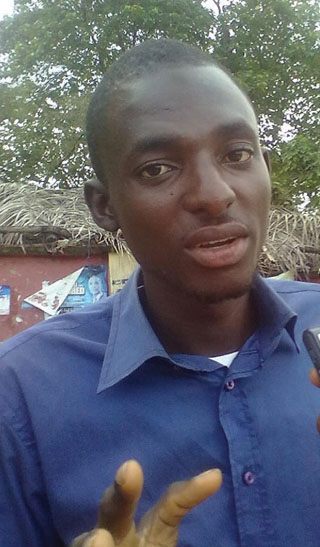 Abdulazeez Umaru, a Higher National Diploma (HND 1) student of Mass Communication, is the newly elected Students Union Public Relations Officer of the Federal Polytechnic Auchi, Edo State. The author of several books and communication journals, spoke with Tosin Ajuwon on his plans as the spokesperson of the union and the challenges ahead
What prompted your interest in varsity politics?
Well, I must admit, there are many reasons. To start with, we the students are the leaders of tomorrow and when the time is right, we will be handed the mantle of leadership of our great nation, Nigeria. We must tread in the glorious footsteps of our forefathers, uphold our country's unity and defend her sovereignty. If we must do all of these adequately, in the future the best platform that serves as the grooming ground is the schools where we learn to be useful to self and society. More so, I aspire to be a public figure with a difference because my dream is to inspire Africans, my mother land Nigeria and, of course, my institution of learning, Auchi Polytechnic, to greater heights and glory. This, I hope, could be achieved with the help and participation of other beloved Nigerian students and by the prudent implementation of policies peculiar to the Nigerian students as regards Information Communication Technology Knowledge and technical know-how and more. I share in the Vision 20:2020 just as I am a staunch believer of the crusade. My dream is that Nigerian students rank favourably with their counterparts from across the globe in terms of exposure to modern science and technology innovative systems. There is no gainsaying that the absence and inadequacy of these in this modern age is the reason why many of our beloved Nigerian students still wallow in the abyss of perpetual darkness of ideas and innovation.
What impacts are you ready to make that can beat those of your predecessors'?
First of all, I wish to declare here that I shall have no rethink in matching words with actions. Although it is already a cliche for public office seekers to preach their self-worthiness, nonetheless I feel it is highly imperative that I say here that my word is my bound. My dream for my fellow beloved Nigerian students as regards the spread and use of vital information is very different from what is on ground now. In the very limited time I shall be in office as the man in charge of public relations, I shall make sure I work closely with my fellow students to make a paradigm shift in the social academic status of the Nigerian students through useful and adequate information. I shall strive tirelessly to make sure that the issue of grapevine or half-truth information is completely abolished from our learning environment by making sure that necessary information is relayed from the appropriate quarters to the students fresh, hot and as at when due. Ultimately, my objective is to synergise forces with the appropriate quarters as to bring the Nigerian students face to face with modern technical (ICT) devices and their expertise. My vision is to one day see all my fellow comrades (students) confidently navigate the shark.
How do you hope to tackle the dearth of information in your institution?
That is a good one. We all know what shortage of information can cause to any organisation. I must reaffirm here that I am a Mass Communication student. The love and passion that I have for the highly artistic art of information and reaching out to the world is what keeps me on. I appreciate the fact that for any organisation to thrive, it must make sure that information circulates adequately to the publics to forestall rumours, misinformation and the rest. To curb shortage of information in the polytechnic, I have started a round-table discourse with the appropriate quarters on the prospects of sending necessary information to students through electronic means; phones, e-mails and so on. By this, the issue of inadequate information will be outdated and all Auchi Polytechnic students could even be looking at receiving alerts of their semester and session results through any of these means.
Why are fondly being referred to as 'China Phone'?
I must say I get this question all the time from students across board and the answers have always remained the same. China Phone, as my nickname goes, is very symbolic and never ordinary. As we all know, China phones are as far the loudest GSM phones one can find around. My point is, Nigerian students must unite and speak out with one loud voice. Let it be known that what we seek is positive change and we must all get it.