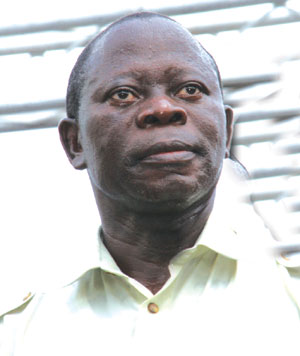 Suspected robbers on Wednesday invaded the labour room at the maternity ward of the state owned General Hospital in Benin, Edo.
The News Agency of Nigeria (NAN) investigation reveals that the suspects gained entry into the ward through the window which made the women in the room scamper for safety with their new born babies.
NAN checks, however, showed that the windows in the ward had no burglary proofs as in many other windows in the hospital.
A nurse at the maternity ward who spoke on condition of anonymity said the robbery took place at about 1 a.m.
She, however, said the thieves did not succeed in taking any baby as "we quickly took them to safety before they eventually reached the ward.
One of the husbands, who identified himself as Bernard Isokponpa, said his wife lost two handsets and some cash.
Isokponpa said he could not confirm whether they were ritualists or robbers as his wife ran out with their new born baby boy. "Why would there be no security at the hospital. What if they had taken my baby?
"My wife called me at about 1:30 a.m. that armed robbers broke into the labour room. She said she ran upstairs with the baby," he said.
It was learnt that suspected robbers had in the past attacked the maternity.
Secretary to the hospital, Mr Isaac Asien confirmed the attack but said they were pick-pockets and not ritualists or armed robbers. He said that various wards at the hospital had been robbed severally before, adding that the hospital's management had employed the services of a private security firm to boost security at the hospital.
Asien, who, denied reports that corpses were stolen or missing at the hospital's mortuary, said that one suspect had been arrested.