The government of Ogun State today read the riot act to men of the underworld terrorising the state to leave or face the wrath of the law.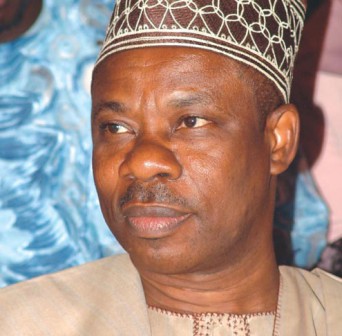 Governor Ibikunle Amosun who issued this warning at the launch of the state's Security Trust Fund and inauguration of a Joint Military/Police Task Force in his office at Oke Mosan, Abeokuta, said he was poised to make the state hot for robbers.
The governor described security as "paramount and pre-eminent in governance."
According to the governor, "the primary purpose of government is the security of lives and property of the citizenry", adding that his administration was determined to make Ogun State uncomfortable for robbers so that people can sleep with their two eyes closed.
Amosun explained that security was now technology-driven, adding that his administration was in touch with the appropriate institutions to establish a modern security network to cover the entire Ogun State.
"The state government has ordered 10 Armoured Personnel Carriers (APCs) to enhance the efficiency and effectiveness of the Joint Task Force. We are not oblivious of the fact that the maintenance of law and order does not come cheap.The Security Trust Fund would support the government's efforts in tackling security challenges in the state through sourcing for resources and efficiently deploying such resources to achieve the objective of a safe and secure environment," Amosun stated.
He revealed that the state government had also set up the Quick Respond Squad (QRS) to complement the Joint Military/Police Task Force.
The governor disclosed that the state government had procured sixty (60) double cabin patrol vans to be used as operational vehicles by the Joint Tax Force. "These vehicles have been fitted with sophisticated communication gadgets that will facilitate easy communication between the operational base of the team and other points as well as with the control rooms of all security agencies."
By Abiodun Onafuye, Abeokuta