Like Xmas bangers,bombs are exploding in Nigerian cities, on a day Nigerian Christians are celebrating the birthday of their Saviour.
The latest blast has gone off in Jos, capital of the crisi-riven Plateau state. the explosives were targeted at a church of the Mountain of Fire in the capital. Although, the attackers missed their target, they shot at a policeman, who had confronted them.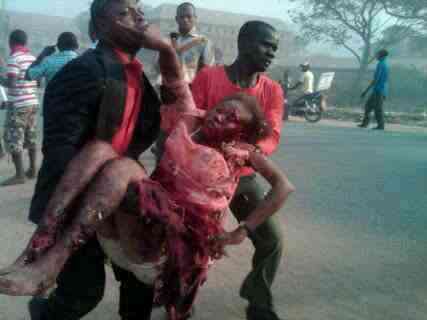 Latest report said the policeman and has died, although one of the explosive throwers was also arrested.
The News Agency of Nigeria said the police are yet to confirm casualty figures.
Plateau state police authorities had on Friday banned the use of motor-cycles to ensure a bomb-free Christmas.
Another bomb earlier today exploded outside of a Catholic church on the outskirts of the Nigerian capital Abuja during Christmas prayers and emergency services said they did not have enough ambulances available to evacuate all the dead and the wounded.
No fewer than 10 people have been confirmed dead. There were many injured.
"Yes, I can confirm to you that there has been a bomb blast in a church in Madala (suburb)," National Emergency Management Agency (NEMA) spokesman Yushau Shuaibu said by telephone to Reuters.
"We are presently there, evacuating the dead and the injured, but unfortunately we don't have enough ambulances. Most of our ambulances have gone to operate on the major highways of the country," he added.
The blast in St Theresa's Church in Madala, an Abuja suburb blew out windows of at least one house nearby, a witness said.
Madala falls into the capital's neighbouring Niger State, where there had been several incidents of bombings in recent months.
No group has yet claimed responsibility for the blast. The Boko Haram sect, fighting for the Islamisation of Nigeria had claimed a series of bombings in recent months, including the bombing of the UN headquarters in Abuja.
Police and army authorities have waged a recent campaign against the group in their bases in Yobe and Borno states. Close to 61 people have been killed, including three soldiers and seven policemen.
To stem such bombings, the authorities in Nigeria's Plateau State, yesterday banned the use of motor-cycles during the Yuletide.