National President, Christian Association of Nigeria, CAN, Pastor Ayo Oritsejafor says that the Christmas Day bombing and the series of other attacks in northern Nigeria is a grand design to Islamise the nation.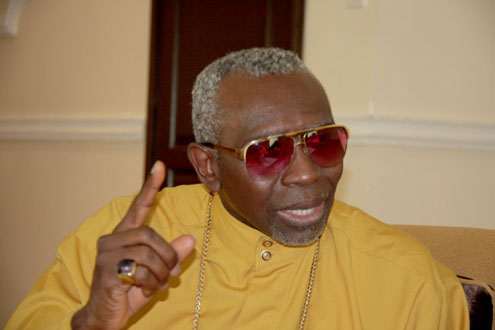 Responding to the Christmas Day attacks in different parts of the country which left hundreds of worshippers dead, Oritsejafor warned that what is happening in the nation was in fulfilment of the agenda to Islamise Nigeria.
According to him, Nigeria must brace up to face the truth that "there is a grand design to islamise the nation, and that is why Christian leaders would soon meet to address the issue frontally once and for all.
"Doubting Thomases should go back to history to find out how Egypt, Libya and most of the North African nations became Islamic countries."
The CAN president therefore voted for a sovereign national conference to determine the future of the Nigerian project, saying "I don't care what name you call it but definitely we cannot continue like this. Every day, I receive calls from pastors who are daily being denied their inalienable rights to worship their God and somebody will pacify me that the Nigerian problem is political and not religious."
Oritsejafor, who was sad over the Christmas carnage said: "I am extremely angry. This is a barbaric and most uncivilised action of human beings in a civilised world. Even animals have respect for each other. It is inhuman. It is barbaric. It is satanic."
"I wonder why certain characters are sponsoring these acts of violence against fellow human beings and go home without any feeling of guilt. I am not talking of people who are hired to carry out the dastardly acts but those who sponsor them. So, these people go home, eat and probably have children who they play with in their homes.
"Let us not deceive ourselves, as good as religion is, it can be a terrible thing because it is only religion that can give a man the conviction to do this kind of thing. It is incredible. Christmas is a day when over 80 million Nigerians join billions of fellow Christians across the globe to celebrate the birth of Jesus Christ. Wouldn't you just respect that?
"I don't think anybody who cannot respect such a sacred date will have any respect for human life. It is totally barbaric and unacceptable. I am short of words to describe how I feel, because I finished the first service in my church and came to the office when I began to receive calls from different parts of the country of the shocking news of the attacks.
The cleric said he did not believe that the worsening insecurity situation in the country had ethnic colouration, adding that the reasons behind the attacks go beyond the election of President Goodluck Jonathan from a minority tribe in the country.
"When you talk about northern elders not being happy about the election of President Jonathan, what about northern elders who are not Muslims? Are they also sad that Jonathan is president? I don't think so. There is a section in the North that is not happy and that is where we are not bold enough to face the truth. The truth is that, it is not the North that is not happy; it is a section of the North that is not happy.
"It is a segment of northern elders that are not happy with the election of President Jonathan; and some people will now say that I am inciting people; but these are the truths."
Oritsejafor said Christian leaders would soon convene a meeting of all denominational leaders to review the security situation in the country and fashion an appropriate response to the menace of terrorism by the Islamic fundamentalist group known as Boko Haram.
He urged Nigerians to be patient and await the outcome of the parley of Christian leaders, which, according to him, will hold very soon, saying that the meeting is expected to address current sectarian violence across the northern part of the country.
—Kazeem Ugbodaga