Muyideen Mudashiru, a panel beater, and member of a suspected robbery gang who specialised in snatching exotic cars, has confessed to have assisted his gang in altering over 50 Toyota vehicles and 13 SUVs by changing all their original engraved fittings and replacing them with new ones.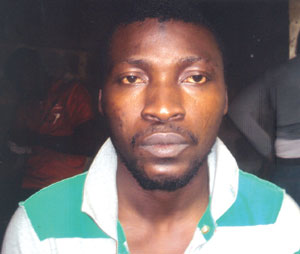 The 31-year-old robbery suspect who disclosed this during an interview with P.M.NEWS, was arrested by operatives of the Special Anti-Robbery Squad, SARS, of the Lagos State Police Command, at Abijan Labora, New Site, Ibeju Lekki, Lagos, Southwest Nigeria.
Also arrested with him was Victor, said to be the driver that takes the stolen cars to Warri in Delta State and Port Harcourt in River State, for sale.
Their leader, Festus Ehis Aghatise, an ex-convict, has died, according to the police, as a result of the injury he sustained during a gun duel with the police.
Vehicles recovered from the gang include one Toyota Sienna with registration number EF 843 FST, two Toyota Matrix with registration number BU 247 EPE and CH 356 KSF and 13 Toyota Corolla cars with registration numbers as follows: DD 58 MUS, CD 156 AGL, EL 273 GGE, EU 214 SMK, BZ 973 AKD, SQ 369 AAA, BU 337 BDG, TA 611 AAA, BU 746 BDG, BU 248 EPE, FJ 304 APP, BP 361 BDG and FF 361 KRD.
Mudashiru said about his arrest: "I was with my wife and two children at Abitu-Ajah, in my own house when SARS operatives picked me up at about 3a.m. It was their boss, SP Abba Kyari, who came with five others and arrested me. The house has no address because the place is new and is called Labura site. Many people live there.
"Whenever Aghatise brought in a vehicle, he would take it to one of his apartments at Sangotedo in Ajah and called us on the phone. We would go there with hammer and chisel and break the car which carried the registration number of the real owner or any mark the owner had identified the car with.
"The person who lived in the house is an Igbo boy named Israel. We would then used gum and new glass that Aghatise had bought and fix them, after which we would collect N50,000 and leave. Aghatise has his own painter to who he contracts painting jobs. He built more than three houses in Ajah and each of them is a three bedroom flat.
"I had worked on more than 50 cars and 13 SUVs for him. I used to see the buyers when they came around, but I had no business with them. Their business does not concern me. It is a job in which you mind your business. Otherwise, you could be misunderstood and that could land you in trouble," he said.
The Osun state native told P.M.NEWS that when he first met Aghatise, he told him he was an importer of vehicles or smuggler. He said Aghatise used to give him money whenever he informed him that he was broke. Then, Muyideen said, he was arrested one day by policemen from Ajah Police Station and asked to write a statement as a member of the gang.
"When I was released, I asked Aghatise's friend, Akaba, who is still at large, Aghatise's real job and he told me that he was surprised that after working for Aghatise for more than two months, I did not know that he was an armed robber. I told Akaba that I would not be able to work for them again. Few weeks after, life became difficult for me again and nobody was willing to help.
"When I heard that Aghatise had been discharged in court, I ran to him and narrated my problems to him. Without talking much, he asked me how much I needed. He helped to foot my wife's hospital bill. I had no choice but to agree to work with them again because I was financially down and there was no job," he told P.M NEWS.
SP Abba Kyari who led the team that arrested the suspected armed robbers told P.M.NEWS that the leader of the gang had earlier been charged with armed robbery after he was arrested on 24 May, 2011 with his gang.
He said a total of 15 Toyota Corolla cars, four Toyota Hiace buses, seven Toyota Camry Saloon cars and one Honda Element car were recovered from the gang.
Kyari added that Aghatise was consequently charged to court with members of his gang on 27 July, 2011, and was remanded in prison custody but regained his freedom in September 2011.
He said on 1 November, 2011, he was again caught in the act while robbing a man of his Toyota Corolla at Ajah area of Lagos and was arrested after exchanging gun fire with the police.
He was said to have been seriously injured in the gun battle.
He took the police to his house to recover another stolen Toyota Corolla car, and further confessed to stealing a total of 19 vehicles between the time he left the prison in September 2011 and the time of his arrest on 1 November, 2011.
His confessions led to the arrest of Muyideen Mudashiru, the panel beater who allegedly changed all the engravings on stolen vehicles and Victor who was said to be the driver that took the vehicles to Delta and River states.
—Jamiu Yisa & Ayodeji Dedeigbo