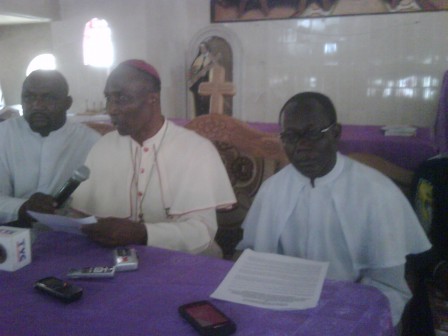 Nnamdi Felix / Madalla, Niger state
The Catholic Bishop of Minna, Niger state, Most Rev Martin Igwe Uzoukwu on Thursday at a Press Conference at the St Theressa's Catholic Church, Madalla, Niger state where a Christmas day bomb blast claimed over 40 lives, stated that the victims of the blast will be given decent burial on a yet to be announced date.
He refuted statements which claimed that the victims would be given mass burial and stated that date for the decent burial for the victims would be announced after due consultations with bereaved family members.
The Bishop called on well meaning Nigerians and all people of good will to strongly condemn the ugly and barbaric act which was targeted at innocent and peaceful citizens.
Expressing his emotion over the dastardly act, the Bishop affirmed that the Church had lost more than 40 persons, including women and children with many others wounded, and maybe maimed forever. He decried the act of terrorism unleashed against the Christian community on a day when Christians across the world gathered to commemorate the birth of Jesus Christ and challenged the perpetrators of the terrorist act to come and tell the world what the Christian community in Niger state had done to deserve or merit this treatment.
Bishop Uzoukwu noted that the Christian community in the state have suffered series of attacks perpetrated by Boko Haram Islamic sect which he noted has claimed responsibility for the Christmas day blast.
He called on peace loving muslims friends to come out like the Sultan of Sokoto had done, and publicly condemn the act. He also enjoined the Federal and the Niger state Governments to stand up against the Boko Haram sect which had claimed responsibility for the blast.
Reiterating the stand of the Sultan of Sokoto to the effect that the incidence was not a fight between Islam and Christianity but a fight between good and evil, Bishop Uzoukwu called on members of the parish to be vigilant and alert and to offer information to security agencies regarding any criminal in their areas.
He also called on both Christians and Muslims to pray for at least fifteen minutes daily for peace to reign in Nigeria.