Nigeria's quarter miler, Udo-Obong Aniefiok and athletes who attended the lying -in- state of the former Technical Director of Athletic Federation of Nigeria, AFN, Sunday Olanrewaju Bada, could not hold back tears as they wept profusely when they saw the lifeless body of the late Superintendent of Police, who died on Monday, 12 December of heart attack.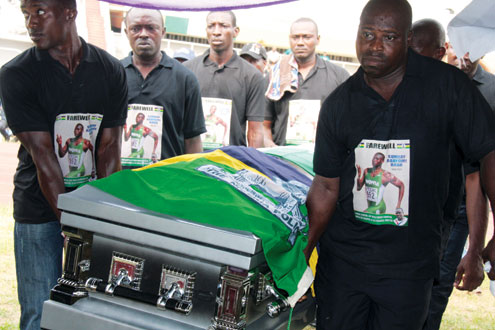 Hundreds of well wishers, sports administrators and athletes paid their last respects to the Olympic Games silver medalist early today at the National Stadium, Surulere, Lagos.
Aniefiok, who could not hold back his tears, told journalists that the death of Bada was a serious setback for Nigerian athletes who are preparing for next year's London Olympic Games.
"Nigerian athletes will definitely miss him. His death was a shock to me and it will be very hard to get over it, "he said.
He described the late Bada as a patriot, who gave his best to this country while he was alive. Aniefiok told P.M. Sports that Nigerians will miss Bada for his encouragement to the athletes and commitment to the cause of Nigerian athletics.
A member of the AFN, Dr. Gloria Obajimi, expressed sadness over the death of Bada, adding that the nation has lost another pillar of sports.
The late Bada will be buried tomorrow in his home town, Kabbah in Kogi State.
—Sunday Akintoye