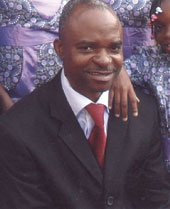 Brother Chris Udo, will on Saturday, 31 December 2011, unveil his debut Christened I'm Blessed.
The album launch holds at the Foursquare Church, City of Refuge Auditorium, Adeteju Adeyeye Street, Anthony Village, Lagos.
Udo, the Church administrator and founder of Reality Praise Crew, will also mark his 48th birthday the following morning at the same venue.
According to Udo, "birthday is beyond eating and dining, but a time for sober reflection on God's faithfulness and to count one's days on earth towards heaven."
— Abimbola Obatayo

Load more