The leadership of the Nigeria Labour Congress, NLC, the Trade Union Congress, TUC, and other trade unions today held a crucial meeting in Abuja to fashion out their plans to resist the removal of subsidy from petrol as announced by the Federal Government on 1 January.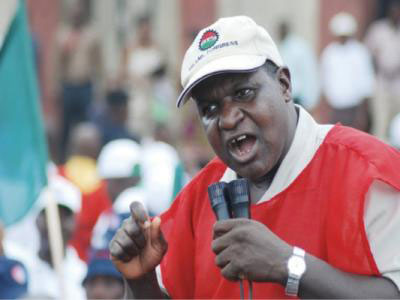 As at press time, the meeting was ongoing and the labour leaders are expected to brief the press about their deliberations.
The labour unions have refused to negotiate with the Federal Government, insisting that the pump price of petrol must revert to N65 per litre instead of the current N141 before they will be ready for dialogue.
The meeting is coming in the wake of yesterday's bloody protests in Ilorin where one person died, and Lagos, Ibadan, and Kano.
Reports by P.M.NEWS correspondents across the states show that Nigerians are awaiting the outcome of the meeting to know the next line of action to take.
Three days after the Federal Government removes fuel subsidy in Nigeria, the effect has been biting harder as economic and socio-political activities have almost been paralysed in Ibadan, capital of Oyo State, Southwest Nigeria.
Traffic in major areas such as Akobo to Gate, Gate to Mokola, Mokola to Dugbe and Sango among others in Ibadan has been light since yesterday as vehicles are off the roads.
P.M.NEWS discovered that only few vehicles are plying the roads. Most of the police traffic officers that direct vehicles for free flow are idle as there are no vehicles to control.
Transport fares have gone up as fuel price peaked at between N145 and N150. For instance, transport fare from Agbowo to Mokola which ordinarily cost 30 is now N100 while Mokola to Dugbe cost N100 instead of N20. From Akobo to Gate, commercial drivers are charging N150 instead of N50.
Most markets visited in Bodija and Dugbe are deserted as most traders did not turn up for their daily business activities.
Also, at the government secretariat, some workers did not turn up for work as activities are very low.
Prices of essential commodities have gone up including recharge cards as recharge cards sellers added N20 to the price of the cards.
Most of the neigbourhood traders also closed chops while people are forced to buy bread at higher price due to scarcity. While a bag of sachet water increased to N130 from N80, a sachet costs N10. Also, the price of biscuits has gone up by N10.
A man who refused to disclose his name at Iso Pako Bodija said he has not completed his building but decided to buy the wood he needs now before the increase in fuel price will affect the price of the wood.
"I am only praying to God to give me money to be able to buy roofing sheets so that I will cover the house and now wait to see the glory of the Lord. This government wants to kill us. I appeal to Nigerians to ensure that they fight government to a standstill on this because we cannot survive this."
However, youths have continued to demonstrate in the city as they vowed to resist the increase in fuel price.
Some youths were seen harassing commercial drivers who are operating on the roads as they asked them to be off the road in solidarity with their protesters.
As at the time of filing this report, they were at the Cultural Centre, Ori-Oke, Mokola sensitising the masses to join the main protest expected to kick off next week.
In Kano, the fuel subsidy removal has affected prices of goods which have skyrocketed. For example, it now costs N300 to browse per hour in a local cyber cafe as against N150 per hour browsing, a few days ago.
As the three day ultimatum issued by the northern-based Boko Haram militant expired today, many residents of Kaduna have remained indoors to avoid being attacked.
From what P.M.NEWS observed today, the roads and the streets are still empty except for some offices and shops that were opened within the Kaduna metropolis.
A trip by our correspondents around the metropolis shows that Igbos in particular and other traders have refused to open their shops, especially at Sheikh Gumi Market.
It was learnt that the traders and some of the workers would not want to risk possible attack as previous experiences had shown that anything could happen after the ultimatum expired today.
A few traders who to open their shops told P.M.NEWS that they were compelled to do so because they needed money to survive. Others stayed at home due to high prices of goods and transport.
Prices yam, rice, beans and garri have doubled since the fuel price was hiked. Transport fares have also been hiked by over 200 per cent.
From Enugu, Jude Orji reports that most of the business premises have remained shut. Only a few civil servants reported for duty at government offices today.
The few commercial vehicles that plied the roads could not get passengers to patronise them. Some people who travelled to the villages are stranded and could not return after the New Year holiday.
In Port Harcourt, there is subdued rage among residents who suddenly woke up to discover they now have to pay N100 for a trip that they normally paid N50 or N60 and the one they usually pay N100 now hiked to N250.
Also at the state capital, in spite of the hike in the price of petrol, most filling stations are not selling to the public, thus creating more hardship.
The state police command has warned the it will not allow protest in the state for security reasons.
However, a coalition of civil society organisation a joint statement signed by Ken Henshaw, Celestine Akpobari and Patrick Naagbaton, said the police cannot mortgage the people's right to protest a provocative policy forced down the throats of impoverished Nigerians.
They said they don't need police permit to protest.
There may be a direct confrontation between civil society groups and the police on 9 January scheduled for public protest on the fuel subsidy removal.
The Rivers State Police Commissioner, Mr. Suleiman Abba, had earlier warned had earlier in the week warned labour leaders and civil society groups not to mobilise the people for a protest.
Most streets in Calabar are bereft of the usual heavy traffic which has become characteristic of the city since the banning of commercial motorcycles popularly called okada in 2009.
Since Sunday when the new fuel price regime came into force, most motorists have parked their vehicles while the few on the road have braced up to face the new fuel prices.
"I cannot afford to drive my car now because the cost of fuel has become too high and my car consumes fuel a lot," Fidel Ogar, a Calabar resident who drives a Mercedes 190 told our reporter this morning.
Taxis and buses which hitherto charged N50 per trip have increased their fares to N100 while any distance considered longer than the usual distance attracts N150. For instance, from the Calabar Sports Stadium which has been the centre of the annual Calabar Festival to the outskirts of the town called 8 Miles, the trip attracts N150, up from the usual N100.
Most fillings stations in Calabar sell petrol at N150 per litre while the NNPC Mega Stations sell for N138. Reports from Boki in the central district of the state say fuel sells for N200 per litre.
In Ogoja in the northern part of the state, a litre sells for N180, while in Ugep, about 100 kilometres from Calabar, a litre sells for N190.
The inter state transport fare has since quadrupled. From Ogoja to Calabar that attracted N1,500 in the past now attracts N4,500.
From Ugep to Calabar that used to cost N600 now costs N1,500.
Meanwhile, As the three-day ultimatum issued by the dreaded Boko Haram sect for Southerners to leave the north expired today, many workers , traders and residents in Kaduna for fear of being attacked have refused to go out to work and business.
From what P.M.NEWS observed today, two days after work resumed in Kaduna, the roads and streets are relatively still empty. This may be as a result of the removal of fuel subsidy.
Except for offices and shops that were opened within the metropolis, P.M.NEWS trips around the metropolis show that Igbo traders and some other traders also refused to open their market stalls and shops particularly in the Sheik Gumi Market today.
From what was gathered , the traders and workers would not want to take risk of possible attack as previous experiences have shown that anything could happen after the Boko Haram ultimatum expired today.
A few people that opened shops told P.M.NEWS that they were compelled to do so because they needed money to survive.
Other residents stayed home due to hike in transport fares.
P.M.NEWS market survey on prices of food show that beans, rice, yam and gari have been increased by 200 per cent .
Transport fares were hiked by over two hundred too.
The workers are hoping that labour unions will embark on a strike to save them from the imminent hardship they are to face when they eventually resume.
By Our Correspondents

Load more