The Nigeria Army on Tuesday stated that it has acquired modern explosive detectors and other Hi- Tech equipment in an effort to boost existing capabilities in the field, all in the bid to counter any form of terrorism that may arise in any part of the country.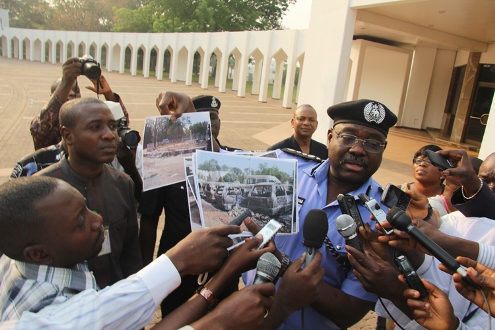 The army, through its Director of Public Relations, Major General Raphael Isa, stated that the battle against the dreaded Boko Haram Islamic fundamental sect has been yielding positive results leading to the sect members search for new operational grounds or abode.
The army spokesman also stated that the Army troops on Operation Restore Order III, recently raided a suspected terrorists' hide out in Pompomari area of Damaturu in Yobe state. According the Isa, an ammunition dump was discovered in addition to the recovery of a number of AK 47 rifles and Improvised Explosive Devices.
While reviewing the operations of the army last year, the image maker gave an indication that the army recovered 32 assorted arms and 339 ammunitions of different calibres among other items in the series of cordon-and-search operations in conjunction with other security agencies. He said the search also led to the recovery of about 40 small arms and subsequent arrest of suspected Boko Haram sect members.
"Major challenges posed by the Boko Haram sect have been reported mainly in Borno and Yobe states. Their prime targets have been mainly isolated offices of security agencies, a few army patrol vehicles and some places of worship. Based on very reliable information, our Operation Restore Order I recorded very remarkable successes in the conduct of operations generally"
Reacting to the 3 day ultimatum issued by the Islamic fundamentalist sect to non Muslims residing in the North to leave the area, General Isa said the army is aware of the threat but advised all and sundry to ignore the ultimatum as it is poised to protect lives and properties of innocent citizens in any part of the country.
Speaking on the readiness of the Army to counter any terrorism in Nigeria, the Army spokesman stated that a Quick Response Groups have been established and equipped with modern equipments including New Troops Carrying Vehicles to be supported by armoured vehicles to boost mobility of troops on internal security operations and for troops' protection.
According to Isa, "Additionally, 54 Mitsubishi pick ups and 50 Toyota Hilux vehicles mounted with radios to ease communication of troops durring conduct of internal security exercises have been acquire"
While expressing appreciation to Nigerians for the cooperation, information and support it has been receiving, the Nigerian Army called for more support for its operations with timely and accurate information from the Nigerian public.
—Nnamdi Felix / Abuja