Almost three decades after his death, the memory of the great Apala music maestro, Alhaji Haruna Ishola (MON) lives on as one of his works has just been released on VCD.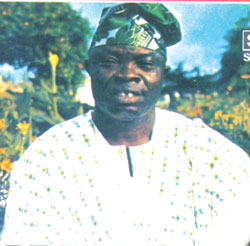 This was made possible by one of his children and ace music promoter, Alhaji Gani Haruna Ishola,
Speaking on the project, the boss of the Commercial Avenue, Sabo, Yaba, Lagos-based Ganbad Records Company, said he hired the company, in conjunction with Star Records, to compile the work done over three decades ago, adding that it was aimed at further imortalisation of the music legend.
The work, which also features Ishola's lead drummer, Rafiu Ojubanire (also deceased), is distributed and marketed by Ganbad Records, while it is also available at Larry Music and Films, Ogunmokun Street, Olosha, Mushin, Lagos and other reputable record outfits nationwide.
— Kayode Aponmade

Load more