The trial of former governor of Ogun State, Otunba Gbenga Daniel on charges of criminal embezzlement of funds and diversion of properties and lands belonging to the Ogun State government, brought against him by the Economic and Financial Crimes Commission, resumed Thursday 19th January, 2012 at the Federal High Court, Abeokuta, Ogun State, with the accused person challenging the jurisdiction of court and seeking to quash the charges preferred against him.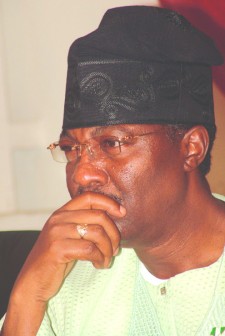 At the resumed hearing, Counsel to the accused, Mr. Taiwo Osipitan, SAN, asked the court to quash the amended 43 count charge brought against Daniel by the EFCC, on the grounds that the court lacked jurisdiction. In a motion supported by a 37 paragraph affidavit, Osipitan argued that the offences for which Daniel is being prosecuted were committed in Ogun State and as such, the Federal High Court lacked the jurisdiction to entertain the matter.
In part, the affidavit stated that the plaintiff lacked the locus standi to prosecute state offences and to initiate criminal proceedings in respect of state offences and or properties belonging to Ogun state government and Ogun state Local Government Councils whether in their names or in the name of the Federal Republic of Nigeria.
But prosecution counsel, Rotimi Jacobs brushed aside the argument of the accused as a ploy to delay the trial. "My learned friend has also said in the 37 paragraph affidavit that it is only Ogun state and Ogun State Local government that can complain or write petition alleging that a crime has been committed against it. My Lord this is a misconception of Law. It is also a misconception to say that the EFCC lacks the powers to prosecute this case. Anybody can be prosecuted by the EFCC, anybody can raise an allegation before anybody and the EFCC based on powers conferred on it by the Act establishing it has the powers to cause an investigation to be conducted," Jacobs said.
He informed the court that the EFCC has its witnesses and is ready to proceed with trial.
The presiding Judge, Justice Olanrewaju Mabekoje adjourned proceedings to Friday January 20, 2012 for ruling on the motion to quash the charges against the accused.
Daniel was dragged before the Ogun State High court on the 12th of October, 2011 on an initial 16 count charge for offences bordering on embezzlement and conversion of Ogun state properties. The charges were later amended to 43 counts by the EFCC.

Load more