Less than one year after gunmen stormed the Alagbole home of John Asiemo a.k.a. Daddy Showkey, killing one of his aides, the Ajegunle Soldier has been attacked by gunmen again.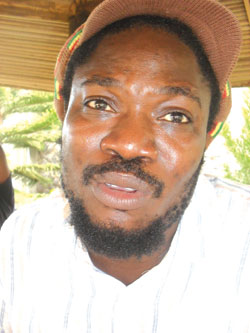 Showkey was attacked on Tuesday by suspected hired assassins near a petrol station on Agidinbgbi, Road, Lagos, southwest Nigeria.
Narrating his ordeal to P.M.NEWS, the Ajegunle Soldier said he was on his way to the petrol station when he noticed that two men on a motorcycle were riding behind him
"On getting to the petrol station, I joined the queue to buy some fuel, and suddenly a young man appeared beside me and informed me that my vehicle (a Toyota Landrover LR3), had a flat tyre. Though I suspected foul play , I decided to come down and fulfill all righteousness.
"But immediately I got down from the vehicle one of the men said, sewo niyen, meaning: 'you are the one', and shot at me twice.
Showkey added: "When the shots missed me, I engaged him in a fight and his partner came to his aid and opened fire on me again, which also did not hit me.
"They later managed to escape. While I was being attacked, motorists who were at the station to buy fuel all fled when they heard the gunshots," the musician stated.
He later reported the incident at Alausa Police Station. He suspected that the two men who had trailed him on the motorcycle actually carried out the attack.
The Ajegunle Soldier told P.M.NEWS that he was surprised that some people would want him dead.
"I'm not involved in any shady business, I am a musician and I do other businesses outside Nigeria. I know say God dey," he said.
—Ayodele Lawal

Load more