Loyalists of Senator Liyel Imoke, governor of Cross River State, are upbeat that he will win the People' Democratic Party, PDP primary scheduled to hold on Monday next week.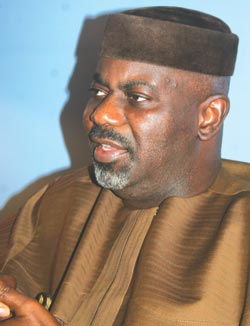 Governor Imoke is seeking reelection as governor of the state in the election scheduled for April 2012.
Imoke's candidature is enjoying the backing of prominent individuals and groups across the State. The first endorsement came from Consensus 2012, a political pressure group based in the northern part of the State.
Paul Adah, former member of the House of Representatives, Idi Yakubu, a lawyer, Emmanuel Lifu, Joe Undiandeye, Jarigbe Agom and others, have given Imoke their blessing, noting that they "Have to support Imoke who has shown commitment to have a governor from northern senatorial district in 2015 to succeed him."
The most significant support for Imoke has come from the Central Senatorial District considered as the stronghold of Ambassador Soni Abang , Nigerian ambassador to Mali and Imoke's main challenger for the PDP ticket.
The rug was literarily pulled off the envoy's feet when some members of the caucus he presides in, issued a terse statement that Abang's ambition is "Criminal, vaulted ambition and sheer ingratitude."
Abang's dream, the group added, offends their sensibilities because he is inexperienced and should not be on the same plane as the governor.
Among those who signed the document denouncing Abang's ambition are: Bassey Okim, a lawyer, Jake Otu Enyia, member of the State House of Assembly, who incidentally hails from the same constituency as Abang.
Besides these, other prominent citizens of the state are overwhelmingly pushing for Imoke to be reelected. Dr. Mathias Offoboche, second republic deputy governor of the state; Dr. Rose Oko, a former governorship candidate and member of the House of Representatives; Larry Odey, Speaker of the House of Assembly, Tom Agi, Leo Aggrey, Don Clems Enamhe are among the governor's staunch supporters.
The race for Government House Calabar is believed to be between Imoke and Abang. Although an Abuja- based businessman, Chief Patrick Okomiso is reported to have purchased a form for the primary, political activities have largely been limited to only the two gladiators.
—Emmanuel Una/Calabar & Bankong-Obi

Load more