Dapo Adelegan, MD, Benjamin Black Celtron Group, publisher and convener of the now rested Chrismas show, Lekki Sunsplash, in this interview with P.M.Entertainment, speaks on why the show was rested, its resumption and other issues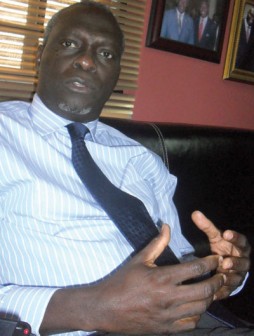 Where have you been?
I have been in Nigeria doing my business.
After the Lekki Sunsplash was rested, why did you move into other areas?
Lekki Sunsplash was an accident of fortune because it was a project I did after my youth service corps. Though I read English, my parents wanted me to read law. In the fifth year of the annual event, I discovered that things were not going as I thought and having truncated my dream of reading law, the next area for me was marketing communications. So I opted for it.
How did you get the idea?
As a person who read English, my next area of interest was marketing communications and the Lekki Sunsplash exposed me to other areas.
By the fifth edition it was becoming epileptic?
Not epileptic; it was becoming a bit rowdy—that is managing hundreds or thousands of people every year on the beach. It was becoming more and more expensive to organise the show. We began to have sponsorship fatigue and the then Lagos State government did not see the need to acquire the right for the Lekki Sunsplash which would have been an annual event for Lagosians. By December this year it would have been exactly 25 years of the Lekki Sunslash.
There were speculations regarding the resting of the show. Some were of the opinion that it was stopped because of lack of security. What really happened?
There were many reasons; finance was a key issue and security was another. There were issues of sustainability because you cannot run a free or semi-free event for between seven and eight years and depend solely on sponsorship. This is because sponsors review their strategies daily. We were even lucky that Seven-Up and Coca-Cola did it for three years each. Having done Lekki Sunsplash for seven years and with my experience in outdoor advertising, I had a dilemma as to what next to do.
I asked the Lagos State government to take over the Lekki Sunsplash and act as a consultant but it did not show interest and I had to step aside.
Did any bank finance the show during that period?
No. Owena Bank only helped us to collect the gate fee for safe-keeping. By the fifth year, we discovered that we were not making any profit and my movement from show business into corporate communications was, therefore, a matter of necessity. As a young man then, I wanted to get married and raise a family. I needed to have a sustainable business as God had ordained that I won't seek employment elsewhere. That is where we are today. This year will be my 25th year in self-employment and entrepreneurship.
What are your plans for Lekki Sunsplash at 25?
We are consulting with major stakeholders, don't forget that even if it was my idea, many people came together to make it happen. I am planning to hold a party for the stakeholders. We are also partnering with the Lagos State government through the present commissioner for tourism who has agreed to support the Lekki Sunsplash
Will you still hold the show at Lekki beach?
Lekki is the only venue for such a show and the ambience is okay for it, though the land now belongs to some people. We will still approach them and secure the venue.
The show contributed to the sustenance of artistes like Fela, K1, Kimono and others, what is the contribution of the artistes towards the revival of the show?
Well, I'm humbled when I look back and see that a lot of top artistes have Lekki sunsplash as their platform. In fact, a lot of them like Lagbaja were weaned on the platform of Lekki sunsplash and I am excited about it—the development and fame of the younger ones like D'banj, P-Square and others. I can't wait to do the show again. By December, we will try to revive the show and subsequently hold a yearly show with the backing of the Lagos State government and do an event that can be marketed in internationally,
What was the reaction of the artistes when the show was stopped?
Let me be honest with you, any time I meet any of the artistes that were part of the show, I am always accused of killing the dream of Lekki Sunsplash and I always take my time to explain that it was due to circumstances beyond my control.
So you are guilty?
I'm guilty as charged, but part of the characteristics of a viable industry is the capital and the attraction of talents and we are in an industry where one person cannot provide all the needed capital. Talents will attract capital but there were no structures to manage these artistes. For example, an artiste has to manage himself and clothe himself among other things, but things are changing as we are beginning to see the emergence of capital into the industry and the establishment of institutions like Kennis Music and the MoHit crew, and many more are coming. For now, I am planning to have a structure that will take over the management of Lekki Susplash, manage the talents that come out of it and give them international exposure. I have a structure for that now.
Who among the artistes that have performed in the Lekki Susplash gave you the needed leverage?
If you have managed an artiste like Fela for five years, what else would you need? He was a total artiste. Each time I watch the tapes of the show or play the music of Wasiu, I look back with nostalgia. Lagbaja was in Lekki Sunsplash and today he is a big star. Alex Zito, Blacky, Daniel Wilson and others passed through Lekki Susplash. When I look back, I feel happy and fulfilled.

Load more