Governor Babatunde Fashola of Lagos State has promised to build and rehabilitate at least 217 inner roads this year, saying the fund is already included in the budget.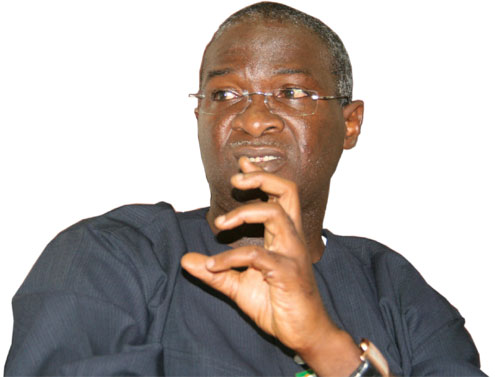 Fashola disclosed this today at his 1,700 days in office held at the Lagos Television Ground, Ikeja, Lagos, southwest Nigeria.
"Critical areas of activities for us will be the construction and rehabilitation of inner city roads. Work has commenced in some parts of Ogudu, Surulere, Mushin, Ajegunle, Ifako Ijaiye, Alimosho and Ikorodu.
"This year, we plan to implement the construction, rehabilitation and rebuilding of 152 inner roads across all local governments in Lagos State. In all, the Ministry of Works and Infrastructure has identified 396 roads across the state as being of high priority," he said.
According to him, "budget constraints dictate that we start with 152 most critical ones and these, of course, have now become subject to further review in the light of price index changes triggered by increase in pump price of petrol.
"I have been advised by the Ministry of Works that in addition to those 152 roads, there are 65 roads upon which work commenced in the last 12 to 18 months, bringing the total of roads that we hope to deliver at the end of this budget cycle to 217."
Also, the governor said the government remains committed to implementing the modernisation of the Mile 12-Ikorodu Road.
"The design of the road is ready and we are working with the Federal Government and the World Bank to conclude on how to finance the project, which will cost N30 billion.
"We appeal for understanding as we are mindful of the present discomfort that commuters in that area are facing, but we assure Lagosians that relief will come soon," he added.
Fashola disclosed that in the last 100 days, the Public Works Corporation, PWC, has resurfaced 230 roads across the state.
The governor disclosed that the state would formally launch the Lagos Home Ownership Mortgage Scheme, HOMS, designed to make house ownership a reality to many Lagosians by providing the opportunity for them to access affordable mortgage finance.
"We have identified several sites, out of which awards have been made for the construction of housing blocks of one, two and three bedroom units in places like Ogba, Omole, Alimosho, Lekki, Surulere, Ikorodu, Ilupeju, Amuwo Odofin, Agbowa and Magodo, among others," he stated.
On security issues, Governor Fashola said he has been meeting with Arewa people on the need to ensure that there is no crisis in the state.
He said if there is any issue bothering on relationship among the people in Lagos, it should not be looked at from the angle of ethnicity and religion.
"We are doing a lot to make Lagos safe. I've been meeting with Arewa people and other ethnic groups in the state," Fashola said.
He tasked Lagosians to be security conscious, saying that if they see any strange vehicle or any suspicious mavement it should be reported to the security agents who will take pre-emptive action.
Governor Fashola said the police, immigration, State Security Service and other security agents have been working hard and in collaboration to ensure residents of the state are safe.
He assured all residents that his administration is doing its best to ensure their safety.
—Kazeem Ugbodaga

Load more