Two dismissed police officers, Igba Isaac, 33 and Abya Chashe, 36, have been arrested and paraded with their nine-man suspected robbery gang members.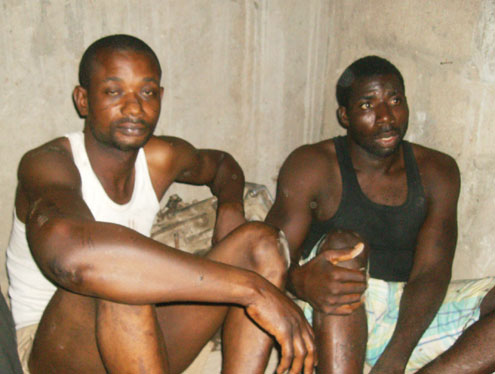 Before his dismissal, Abya was an officer at the Federal Capital Territory, Abuja, while Igba was a corporal, formerly attached to Abattoir Police Station, Agege, Lagos, Southwest Nigeria.
The dismissed officers were arrested with their gang members by the Lagos State Special Anti-Robbery Squad (SARS) led by SP Abba Kyari. They were arrested after an operation in Langbasa, Ajah where they stole laptops, plasma TV and a red Toyota Camry car.
Though they had a successful operation at their victim's residence, the suspected robbers' problem started when one of them, Ratti Edet, fell in love with the house maid of their victim. He was said to have dropped his mobile phone number with the house help after robbing her boss.
He started a relationship with the maid on phone and both of them eventually scheduled an appointment, but unknown to Edet, the police got wind of the development and swooped on him.
After his arrest, he gave the police clues that led to the arrest of the other suspects.
In his confessional statement, Edet said the two police officers (Igba and Abya) are members of his gang and they supply the ammunition used in their various operations.
Some of the items recovered from the suspected robbers include stolen laptops, two pistols and 20 round live ammunition.
P.M NEWS gathered that the suspects were aided by Adamu Garba, the guard of their victim in Ajah.
Adamu said he liaised with the robbers to rob his boss because his boss offended him.
Garba said: "I was involved in the robbery because I was not happy with my boss. He accused me of stealing and called the police, but they did not find anything on me. It was my brother, Aliu, I met in a Mosque that linked me with the robbers."
In his confessional statement, one of the dismissed policemen, Isaac, said poverty and frustration forced him to join the robbery gang.
"I was a Corporal and served last at Isokoko I Abuja. I am married with a child. I joined the force on 1 May, 2003 and was posted to Isokoko in October 2010. I have a family to take care of and the pressure to make a living led me to the gang. I am ashamed of myself now," Igba said.
Another member of the gang, Josiah Oriabare, 38, also said he joined the robbery gang because of poverty.
"I was a driver and I live at 5, Kosoko Street, Oke-Ayo. I had planned to stop this on 31 December, last year, but I didn't because I needed money," he confessed, adding that a man called Obinna introduced him to robbery.
—Bayo Adetu & Ayodeji Dedeigbo

Load more