Following Friday's coordinated bombings of parts of Kano, which left over 160 people dead, southerners, especially Igbos, living in Sabon Gari area of the city have besieged a motor park in their bid to flee to their home states.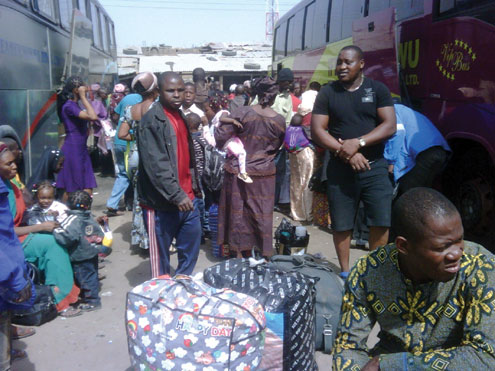 As early as 8.30 a.m. today, luxury buses were seen loading Igbo passengers at motor park in Sabon Gari area of Kano. Unlike before, when such buses depart in the evening, the buses are billed to leave in the afternoon today.
Many travellers were seen milling around the park as they tried to book for their trip to the eastern part of the country.
Men who have unfinished businesses or project in Kano have decided to send their families back to their home states.
The majority of passengers on board the buses were women and children. And because of this, business activities within Sabon Gari, Kano, have become slow.
Those travelling told P.M.NEWS at the park of their regret for being compelled to leave Kano because they no longer felt safe after last Friday's bomb explosions by Boko Haram.
According to them, if the Boko Haram Sect could wreak such havoc on security agencies, it then means that their safety cannot be guaranteed.
When P.M.NEWS reminded one of the travellers, Mr. Emeka Odoh, of the president's promise to beef up security, he fumed: "How long will Mr. President continue to promise us? It has happened in Maiduguri, Yobe, Kaduna and look at what happened in Kano last Friday, where many people were killed; including my own brother whose corpse cannot be identified yet.
"Also, remember what happened on Christmas Day at a Catholic Church in Niger State where parishioners were killed and later the suspect was caught. But what they told us was that he escaped. We can no longer wait, let us go to our home."
Though non-indigenes are afraid of what may happen next, soldiers have already taken over security in Kano. They have been deployed to strategic locations and some are on patrol even as tension is still high.
Condemnations have trailed the bombings of Friday. The national president, Christian Association of Nigeria, CAN, Pastor Ayo Oritsejafor, Lagos State Governor, Babatunde Fashola and the Speaker of the Lagos House of Assembly, Adeyemi Ikuforiji have all decried the attacks.
They have also called for concerted fight by all Nigerians against insecurity.
Oritsejafor condoled with families of the victims and those injured in the bombings.
"I condemn in the strongest terms possible the continued killing of innocent Nigerians for no justifiable reason whatsoever. The blood of these innocent citizens will surely cry out for justice."
On his part, Fashola condoled with the government and people of Kano State as well as the management of Channels Television over the unfortunate loss of lives which occurred as a result of the violent and mindless explosion of bombs in the state on Friday.
He asked all well meaning Nigerians to rise up together to find a path of peace for our nation, while urging all aggrieved persons to seek dialogue first rather than as a last resort.
Also speaking, Ikuforiji condemned the Kano bombing and condoled with families of the victims, especially the gruesome murder of Channels TV Correspondent in Kano.
The Speaker, in a statement said it is very sad, regrettable and most ungodly for any group by whatever name to have killed the journalist in that manner while carrying out his constitutional duties.
Former Minister of the Federal Capital Territory, Mallam Nasir el-Rufai, has rained curses on the sect's members calling down the spirit of God upon them and their sponsors.
Also, Speaker of the House of Representatives, Aminu Waziri Tambuwal, has urged all Nigerians to respect the sanctity of human life while voicing their grievances, saying last Friday's multiple blasts that rocked the ancient city of Kano calls for greater concern and sober reflection.
Such an act, the Speaker noted in a statement made available to P.M.NEWS, will send wrong signals to the international community that the country is not safe for investors.
According to him, the surest way to resolve any differences is through dialogue.
Following the frequent bomb explosions and killings by Boko Haram now threatening the stability and unity of Nigeria, the Director of Army Public Relations, Maj Gen. Raphael Isa, has disclosed that counter-terrorism training is ongoing in Jaji, Kaduna State, north central Nigeria.
Speaking this morning on Sunrise Daily, a programme on Channels Television, Isa said that the Jaji training involves all security agencies in the country.
He called on all Nigerians to provide information about terrorists, adding that those housing them must stop.
"We want the civil society to wake up, people around should provide intelligence. People should stop housing criminals."
He disclosed that contrary to general belief that all the terrorists are imported from outside the country, Nigerians are involved as well as foreigners.
"Nigerians are involved and it is unfortunate. You bring someone from outside to help you destroy your own country," he said.
He said there is no evidence that the Boko Haram sect has links to Al-Qaeda, the dreaded terrorist group which carried out the 11 September 2001 attacks in New York City.
He also called on Nigerian embassies to provide information on terrorists training outside the country.
Isa said that some politicians may be involved but did not disclose their identity.
"We are all political animal. Is there anything we do that is not shrouded in politics," he said about the involvement of politicians.
He also disclosed that the department of information and military intelligence has been given the task to sensitise Nigerians on how to partner on the fight against terrorism.
—Madu Nmeribeh/Kano, Kazeem Ugbodaga, Eromosele Ebhomele, Jamiu Yisa & Simon Ateba

Load more