Nigerians this morning gathered at the Central Business District area of Alausa, Lagos state, South-west Nigeria to discuss the current state of the nation.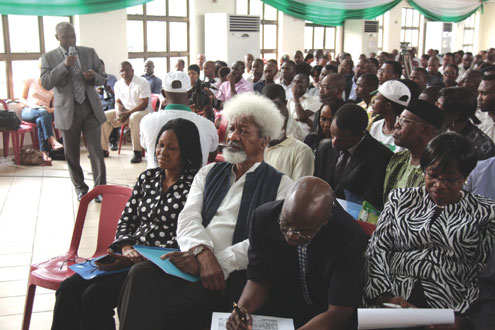 The Town Hall Meeting, which was organised by the Save Nigeria Group (SNG) had in attendance Nobel Laureate Prof. Wole Soyinka, foremost economist, Henry Boyo and Afro-beat icon, Femi Kuti, musician Dede Mabiaku, Dr. Joe Okei-Odumakin among others.
Addressing the gathering, convener of the SNG, Pastor Tunde Bakare, promised to constantly engage in such meetings to enlighten the people on what government is about.
He said the government had become scared of the reactions of the people judging by the events of the fuel subsidy removal.
He said despite the effort by the government to become repressive against the people by deploying soldiers to the streets of Lagos, "the freedom of the citizens of the country including those of speech and assembly as guaranteed by the constitution, cannot be revoked by any government that wishes to. be responsive to the people."
Bakare said he read in a newspaper today that the Governor Babangida Aliu of Niger State was calling for his arrest for treason.
While wondering what came over the governor , he said if the call on those in government to stop feeding fat while the people continue to suffer is treason, then he is ready to plead guilty.
Bakare further stressed that the SNG was at the forefront of the fight to make Goodluck Jonathan the President during the crisis surrounding the illness of the late Umaru Yar'Adua, but that the group is now seen as an enemy of the government.
"How we suddenly became his enemy for telling the truth will be judged by history," he said.
Boyo, while giving his lecture, heaped the blame of the country's economic challenges on the Central Bank of Nigeria.
He said: "indeed, our economy appears trapped in a paradox of deepening poverty with increasing export revenue, while reduced export revenue has meant extreme poverty.
"A careful analysis of the process of infusion of our export earnings into the economy will show that this anomaly was made inevitable by our Central Bank's practice of capturing export dollar revenue and substituting naira at its unilaterally determined rate of exchange before payment of consolidated naira allocations to the three tiers of government."
—Eromosele Ebhomele & Jamiu Yisa

Load more