Lagos State Governor, Babatunde Fashola (SAN) has again warned Lagosians not to use cart pushers in the disposal of their refuse, saying cart pushers end up dumping the refuse in the nearest canals which result to flooding.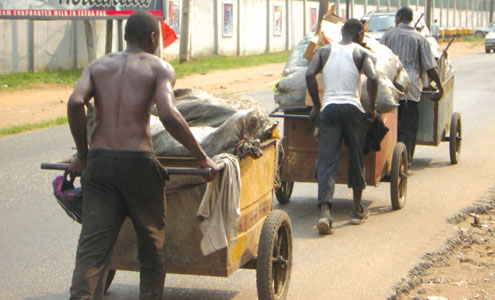 Responding to a question on the preparedness of the government for the coming rainy season from a stakeholder at an interactive session to commemorate his 1,700 Days in Office at the LTV Blue Roof Multipurpose Hall, Governor Fashola explained that because the canals act as drains taking flood water to the sea, when they are blocked by the refuse from the cart pushers, the flood water recedes back to the roads and homes of resident causing flood.
Urging residents to patronise the state's waste management authority (LAWMA), and sign agreements with PSP operators to come and take their refuse, Governor Fashola declared: "Cart pushers are the ones who take your refuse and dump them in the canal closest to you; with your money, they are inflicting more pain on you, when the rain falls, the water recedes back to your homes, so you have not done yourself a favour by patronizing cart pushers."
The governor had, in his address earlier at the occasion warned, "I must alert all of us that the continuous patronage of cart pushers by some residents in spite of our numerous appeals to dissuade this practice has been found to be a significant cause of refuse dumping in our drains."
Governor Fashola said in terms of preparation for the coming rainy season, the Ministry of Environment, the commissioner and permanent secretaries are out there already cleaning up the drains and building new ones in preparation for the coming rains," adding, however, that what must always be borne in mind is the fact that Lagos is a coastal city state surrounded by water, a state of many little islands connected by bridges, adding that Lagos Island, Ikoyi, Victoria Island and Surulere among others are surrounded by water.
"The impact of rainfall in coastal states must certainly be much more severe than in none coastal states, but we can do a lot to make sure that the impact is mitigated. We are having extreme weather; the weather pattern has changed. We used to know that rainy season used to be between June and August. But rain fell last year until November," the governor said.
The governor also challenged the citizenry to "take ownership of all the canals around them", adding, "the canals are actually the drains, the gutters in your neighbourhood are channeled to take the waters to the drains. So, we should stop building on canals, we should stop dumping refuse in the canals because it is the canal that will actually take the waters to the sea. If you block the canals, the channel will not be able to take the water away when rain falls."

Load more