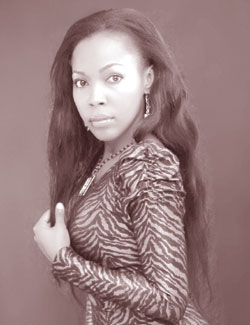 Versatile music diva, Celine Dimas, has hit the airwaves with a female version of D'banj's wave making single, Oliver Twist.
In Celine's remix version, which is already enjoying review by music pundits, the songstress showed her creativity and artistic prowess through a song originally done by one of Nigeria's best singers, D'banj.
Speaking on why she did the song, Celine said "When I listened to D'banj's original version, I loved it and thought of doing the female version of it. So we made a beat for it and I came up with the lyrics. Moreover, D'banj and Don Jazzy are people I respect a lot."
The Imo State-born singer, who started her career as a model and actress, reiterated that part of her unique selling point is the fact that "I'm good looking, have stage presence and good voice, and I'm a good songwriter too. I also believe in myself.
"I have the total package. Though I am still a baby in the industry with a lot to learn, the sky will surely be my starting point."
Her role models? "I have a lot of role models; my mom, Celine Dion, Beyonce, Keri Hilson, Joke Silva, Halle Berry and Oprah," said Celine, who is currently making efforts to shoot the video of her debut single.
—Bayo Adetu

Load more